The Implication of Digital Technologies and Interventions for Mental Health Care
Keywords:
Mental health, Psychiatry, Digital psychiatry
Abstract
The prevalence of mental health problems during the COVID-19 pandemic was higher than before. Physical distancing policies caused more difficulties in receiving traditional face-to-face mental health care, resulting in wider mental health treatment gaps. Regarding these barriers and the limitation of human resources, digital transformation in psychiatry has been widespread. This article summarized the recent supporting evidence of digital technologies and interventions in psychiatry, including telepsychiatry, computer-based and internet-based cognitive behavioral therapy, smartphone application-based intervention and virtual reality-based therapy, with the most studies for depressive disorders and anxiety disorders. The author also reviewed the usage of mental health chatbots, artificial intelligence, and machine learning. In conclusion, these innovations might be new possibilities in addition to  standard psychiatric evaluation and treatment in the upcoming future. However, privacy and security issues remain concerned, which require further studies.
Downloads
Download data is not yet available.
References
Rauschenberg C, Schick A, Hirjak D, et al. Evidence Synthesis of Digital Interventions to Mitigate the Negative Impact of the COVID-19 Pandemic on Public Mental Health: Rapid Meta-review. J Med Internet Res. 2021;23(3):23365.
Rohr S, Muller F, Jung F, Apfelbacher C, Seidler A, Riedel-Heller SG. Psychosocial Impact of Quarantine Measures During Serious Coronavirus Outbreaks: A Rapid Review. Psychiatr Prax. 2020;47(4):179-189.
Brooks SK, Webster RK, Smith LE, et al. The psychological impact of quarantine and how to reduce it: rapid review of the evidence. Lancet. 2020;395(10227):912-920.
Holmes EA, O'Connor RC, Perry VH, et al. Multidisciplinary research priorities for the COVID-19 pandemic: a call for action for mental health science. Lancet Psychiatry. 2020;7(6):547-560.
Nochaiwong S, Ruengorn C, Thavorn K, et al. Global prevalence of mental health issues among the general population during the coronavirus disease-2019 pandemic: a systematic review and meta-analysis. Sci Rep. 2021;11(1):10173.
Saxena S, Thornicroft G, Knapp M, Whiteford H. Resources for mental health: scarcity, inequity, and inefficiency. Lancet. 2007;370 (9590):878-889.
Lovejoy CA, Buch V, Maruthappu M. Technology and mental health: The role of artificial intelligence. Eur Psychiatry. 2019;55:1-3.
Organization WH. Global diffusion of eHealth: making universal health coverage achievable: report of the third global survey on eHealth. World Health Organization; 2017.
The Lancet P. Digital psychiatry: moving past potential. Lancet Psychiatry. 2021;8(4):259.
Lustig TA. The role of telehealth in an evolving health care environment: workshop summary; 2012
O'Reilly R, Bishop J, Maddox K, Hutchinson L, Fisman M, Takhar J. Is telepsychiatry equivalent to face-to-face psychiatry? Results from a randomized controlled equivalence trial. Psychiatr Serv. 2007;58(6):836-843.
Hubley S, Lynch SB, Schneck C, Thomas M, Shore J. Review of key telepsychiatry outcomes. World J Psychiatry. 2016;6(2):269-282.
Bashshur RL, Shannon GW, Bashshur N, Yellowlees PM. The Empirical Evidence for Telemedicine Interventions in Mental Disorders. Telemed J E Health. 2016;22(2):87-113.
Chen JA, Chung WJ, Young SK, et al. COVID-19 and telepsychiatry: Early outpatient experiences and implications for the future. Gen Hosp Psychiatry. 2020;66:89-95.
Appleton R, Williams J, Vera San Juan N, et al. Implementation, Adoption, and Perceptions of Telemental Health During the COVID-19
Pandemic: Systematic Review. Review. J Med Internet Res. 2021;23(12):31746.
Kumar V, Sattar Y, Bseiso A, Khan S, Rutkofsky IH. The Effectiveness of Internet-Based Cognitive Behavioral Therapy in Treatment of
Psychiatric Disorders. Cureus. 2017;9(8):1626.
Luo C, Sanger N, Singhal N, et al. A comparison of electronically-delivered and face to face cognitive behavioural therapies in depressive disorders: A systematic review and metaanalysis. EClinicalMedicine. 2020;24:100442.
Wright JH, Owen JJ, Richards D, et al. Computer-Assisted Cognitive-Behavior Therapy for Depression: A Systematic Review and
Meta-Analysis. J Clin Psychiatry. 2019;80(2).
Etzelmueller A, Vis C, Karyotaki E, et al. Effects of Internet-Based Cognitive Behavioral Therapy in Routine Care for Adults in Treatment for Depression and Anxiety: Systematic Review and Meta-Analysis. J Med Internet Res. 2020;22(8):18100.
Karyotaki E, Efthimiou O, Miguel C, et al. Internet-Based Cognitive Behavioral Therapy for Depression: A Systematic Review and Individual Patient Data Network Meta-analysis. JAMA psychiatry. 2021;78(4):361-371.
Huckvale K, Nicholas J, Torous J, Larsen ME. Smartphone apps for the treatment of mental health conditions: status and considerations. Curr Opin Psychol. 2020;36:65-70.
Larsen ME, Nicholas J, Christensen H. A Systematic Assessment of Smartphone Tools for Suicide Prevention. PLoS One. 2016;11(4):0152285.
Melia R, Francis K, Hickey E, et al. Mobile Health Technology Interventions for Suicide Prevention: Systematic Review. JMIR Mhealth Uhealth. 2020;8(1):12516.
Velez FF, Ruetsch C, Maricich Y. Evidence of long-term real-world reduction in healthcare resource utilization following treatment of opioid use disorder with reSET-O, a novel prescription digital therapeutic. Expert Rev Pharmacoecon Outcomes Res. 2021;21(4):519-520.
Christensen H, Batterham PJ, Gosling JA, et al. Effectiveness of an online insomnia program (SHUTi) for prevention of depressive episodes (the GoodNight Study): a randomised controlled trial. Lancet Psychiatry. 2016;3(4): 333-341.
Ritterband LM, Thorndike FP, Ingersoll KS, et al. Effect of a Web-Based Cognitive Behavior Therapy for Insomnia Intervention With 1-Year Follow-up: A Randomized Clinical Trial. JAMA Psychiatry. 2017;74(1):68-75.
Li L, Yu F, Shi D, et al. Application of virtual reality technology in clinical medicine. Am J Transl Res. 2017;9(9):3867-3880.
Maples-Keller JL, Bunnell BE, Kim SJ, Rothbaum BO. The Use of Virtual Reality Technology in the Treatment of Anxiety and Other Psychiatric Disorders. Harv Rev Psychiatry. 2017;25(3):103-113.
Dellazizzo L, Potvin S, Luigi M, Dumais A. Evidence on Virtual Reality-Based Therapies for Psychiatric Disorders: Meta-Review of Meta-Analyses. J Med Internet Res. 2020;22(8):20889.
Park MJ, Kim DJ, Lee U, Na EJ, Jeon HJ. A Literature Overview of Virtual Reality (VR) in Treatment of Psychiatric Disorders: Recent Advances and Limitations. Front Psychiatry. 2019;10:505.
Torous J, Bucci S, Bell IH, et al. The growing field of digital psychiatry: current evidence and the future of apps, social media, chatbots, and virtual reality. World Psychiatry. 2021;20(3):318-335.
Lee D, Yoon SN. Application of Artificial Intelligence-Based Technologiesin the Healthcare Industry: Opportunities and Challenges.
Int J Environ Res Public Health. 2021;18(1).
Luxton DD. Artificial intelligence in psychological practice:Current and future applications and implications. Professional Psychology: Research and Practice. 2014;45(5):332-339.
Lin E, Lin CH, Lane HY. Precision Psychiatry Applications with Pharmacogenomics: Artificial Intelligence and Machine Learning Approaches. Int J Mol Sci. 2020;21(3):969.
Lee Y, Ragguett RM, Mansur RB, et al. Applications of machine learning algorithms to predict therapeutic outcomes in depression: A
meta-analysis and systematic review. J Affect Disord. 2018;241:519-532.
Sanfelici R, Dwyer DB, Antonucci LA, Koutsouleris N. Individualized Diagnostic and Prognostic Models for Patients With Psychosis Risk Syndromes: A Meta-analytic View on the State of the Art. Biol Psychiatry. 2020;88(4):349-360.
Koutsouleris N, Kambeitz-Ilankovic L, Ruhrmann S, et al. Prediction Models of Functional Outcomesfor Individualsin the Clinical
High-Risk State for Psychosis or With Recent-Onset Depression: A Multimodal, Multisite Machine Learning Analysis. JAMA Psychiatry. 2018;75(11):1156-1172.
Bernert RA, Hilberg AM, Melia R, Kim JP, Shah NH,Abnousi F.Artificial Intelligence and Suicide Prevention: A Systematic Review of Machine Learning Investigations. Int J Environ Res Public Health. 2020;17(16).
TorousJ, Walker R. Leveraging Digital Health and Machine Learning Toward Reducing Suicide-From Panacea to Practical Tool. JAMA Psychiatry. 2019;76(10):999-1000.
Pourmand A, Roberson J, Caggiula A, Monsalve N, Rahimi M, Torres-Llenza V. Social Media and Suicide: A Review of Technology-Based Epidemiology and Risk Assessment. Telemed J E Health. 2019;25(10):880-888.
Vaidyam AN, Wisniewski H, Halamka JD, Kashavan MS, Torous JB. Chatbots and ConversationalAgentsin Mental Health:AReview
of the Psychiatric Landscape. The Canadian Journal of Psychiatry. 2019;64(7):456-464.
Abd-AlrazaqAA, RababehA,Alajlani M, Bewick BM, Househ M. Effectiveness and Safety of Using Chatbots to Improve Mental Health: Systematic Review and Meta-Analysis. J Med Internet Res. 2020;22(7):16021.
Fitzpatrick KK, Darcy A, Vierhile M. Delivering Cognitive Behavior Therapy to Young Adults With Symptoms of Depression and Anxiety Using a Fully Automated Conversational Agent (Woebot): A Randomized Controlled Trial. JMIR Ment Health. 2017;4(2):19.
Philip P, Micoulaud Franchi JA, Sagaspe P, et al. Virtual human as a new diagnostic tool, a proof of concept study in the field of major
depressive disorders. Sci Rep. 2017;7(1):42656.
Benyakorn S. Implementing Telepsychiatry in Thailand Benefits and Challenges. Journal of the Medical Association of Thailand Chotmaihet thangphaet. 2016;99(S8):260-266.
Ooca. Let's talk with psychologist and psychiatrist from the comfort of your home. Ooca. https://www.ooca.co/. Accessed March
, 2022.
Wisawatapnimit P, Turner K, Charoensuk S. Wisdom and Innovation against COVID-19: Mahidol University PMAC 2021 COVID-19: Advancing Towards an Equitable and Healthy World. Mahidol University . https://pmac2021.com/assets/webinars/pdf/PMAC2021_ft_compnion_book.pdf. National Health Security Office. Updated 2021. Accessed March 17, 2022.
Telepsychiatry Guidelines and Policies During COVID-19 Pandemics. The Royal College of Psychiatrists of Thailand. https://www.rcpsycht.org/th/organization/laws-regulations. Updated 2020. Accessed March 17, 2022.
Orsolini L, Jatchavala C, Noor IM, et al. Training and education in digital psychiatry: A perspective from Asia-Pacific region. Asia-Pacific Psychiatry. 2021; 13(4):12501.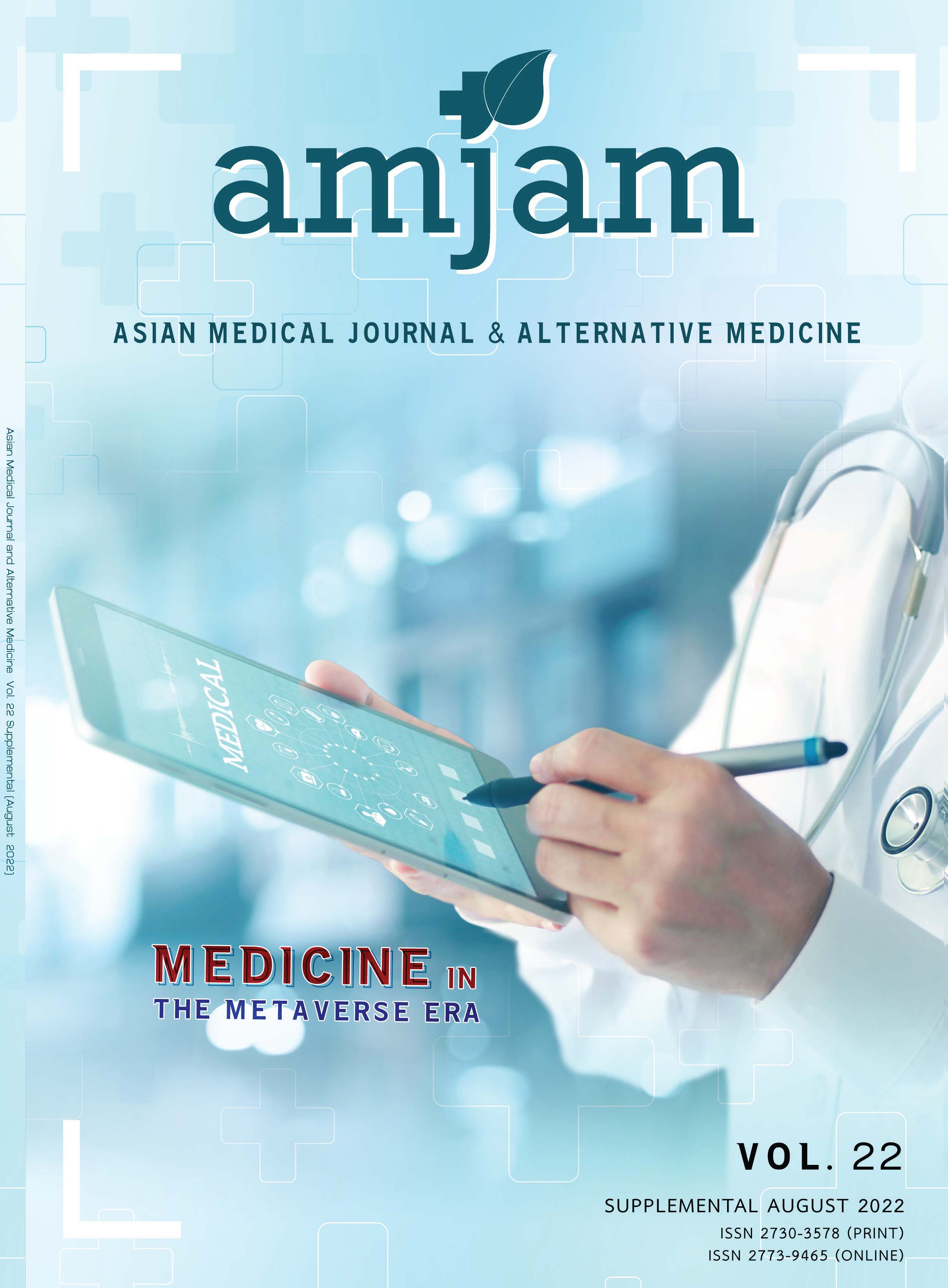 Downloads
How to Cite
[1]
Thanetnit, C. 2022. The Implication of Digital Technologies and Interventions for Mental Health Care . Asian Medical Journal and Alternative Medicine. 22, - (Aug. 2022), S62-S69. DOI:https://doi.org/10.14456/2022s10302.
License
Copyright (c) 2022 Asian Medical Journal and Alternative Medicine
This work is licensed under a Creative Commons Attribution-NonCommercial-NoDerivatives 4.0 International License.