COVID-19 and Cardiac Injury: A Complex Interplay
Keywords:
Coronavirus disease 2019, COVID-19, SARS-CoV-2, Cardiovascular disease, Cardiac injury
Abstract
Although the coronavirus disease-2019 (COVID-19) primarily affects the respiratory system, the cardiovascular system is the potential target since angiotensin-converting enzyme 2 (ACE2), which acts as a receptor for the virus, is also extensively expressed in the myocardium. A large proportion of individuals infected with COVID-19 have prior cardiac risk factors in which hypertension and diabetes are the most prevalent comorbidities. Cardiac injury, defined as an elevated cardiac troponin, is the most reported cardiac abnormality in COVID-19. Acute cardiac injury can occur through a number of possible mechanisms include: (1) Non-ischemic myocardial injury related to various causes e.g., systemic inflammation, cytokine storm, stress-induced cardiomyopathy, and myocarditis. (2) Ischemic cardiac injury related to different pathophysiology e.g., plaque rupture, coronary spasm, or myocardial oxygen demand-supply mismatch. Cardiovascular disease and COVID-19 have a complex interplay. The presence of preexisting cardiovascular disease increasessusceptibility to COVID-19 infection as well as morbidity and mortality. On the other hand, COVID-19 infection can worsen the underlying cardiovascular disease or even trigger new complications, such as myocardial injury, which is closely related to the disease progression and prognosis.
Downloads
Download data is not yet available.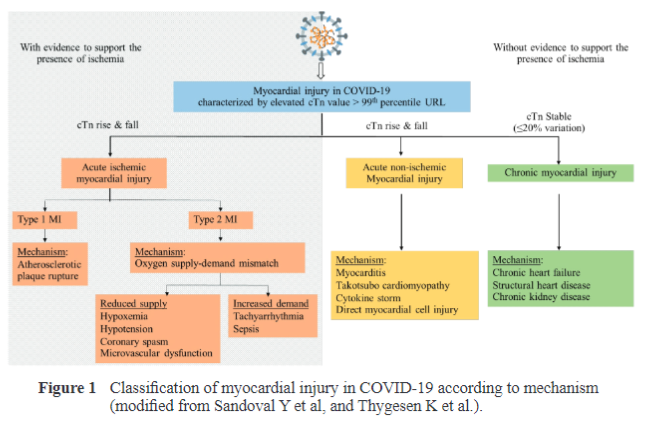 Downloads
How to Cite
[1]
Muenkaew, M. 2022. COVID-19 and Cardiac Injury: A Complex Interplay. Asian Medical Journal and Alternative Medicine. 22, - (Aug. 2022), S33-S41. DOI:https://doi.org/10.14456/2022s103.
License
Copyright (c) 2022 Asian Medical Journal and Alternative Medicine
This work is licensed under a Creative Commons Attribution-NonCommercial-NoDerivatives 4.0 International License.