In Vitro Anticancer and Anti-inflammatory Activities of Rauwenhoffia siamensis Scheff Root Extracts
Keywords:
Rauwenhoffia siamensis, Alternative medicine, Herb, Endometrial cancer, Gynecologic cancer
Abstract
Introduction: The sixth most prevalent malignancy among women is endometrial cancer. R. siamensis roots were utilized to treat endometrial cancer in Thai traditional medicine. However, the scientific basis for its action is not entirely understood.
Objectives: To investigate the cytotoxicity of R. siamensis root extracts against uterine, ovarian, and cervical cancer cells, anti-inflammatory property and their flavonoid contents.
Methods: Cytotoxicity activity was determined by using sulforhodamine B assay. Anti-inflammatory activity was investigated by inhibition of nitric oxide production. Flavonoid content was analysed using aluminum chloride colorimetric assay.
Results: Observations showed high flavonoid contents in all R. siamensis root extracts. Strong cytotoxic activity was detected in the ethanolic extract of R. siamensis root as well as production inhibition of nitric oxide.
Conclusions: The ethanolic extract of R. siamense showed the significant anticancer activity. To better comprehend its mechanism, active substances should be examined for cytotoxicity, and an animal model should be investigated.
Downloads
Download data is not yet available.
References
Zhou L, Su YCF, Chalermglin P, Saunders RMK. Molecular phylogenetics of Uvaria (Annonaceae): relationships with Balonga, Dasoclema and Australian species of Melodorum. Bot. J. Linn. 2010;163(1):33-43.
Jaidee W, Andersen RJ, Chavez MAG, et al. Amides and Flavonoids from the Fruit and Leaf Extracts of Melodorum siamensis. J. Nat.
Prod. 2019;82(2):283-292.
Prawat U, Chairerk O, Phupornprasert U, Salae AW, Tuntiwachwuttikul P. Two New C-benzylated Dihydrochalcone Derivatives from the Leaves of Melodorum siamensis. Planta Med. 2013;79(01):83-86.
Chamnan T. Thai traditional medicine of Krom Luang Chumphon Khet Udomsak 2nd ed. Bangkok: Thai Quality Book; 2013.
World Health Organization. The Global Cancer Observatory. World Health Organization. https://gco.iarc.fr/today/data/factsheets/populations/764-thailand-fact-sheets.pdf. Accessed July 10, 2022.
Fanning J, Alvarez PM, Tsukada Y, Piver MS. Cervical implantation metastasis by endometrial adenocarcinoma. Cancer. 1991;68(6):1335-1339.
Takeshima N, Hirai Y, Yano K, Tanaka N, Yamauchi K, Hasumi K. Ovarian metastasis in endometrial carcinoma. Gynecol. Oncol.
;70(2):183-187.
Grivennikov SI, Greten FR, Karin M. Immunity, inflammation, and cancer. Cells. 2010;140(6):883-899.
Lan T, Chen L, Wei X. Inflammatory Cytokines in Cancer: Comprehensive Understanding and Clinical Progress in Gene Therapy. Cells. 2021;10(1):100.
Skehan P, Storeng R, Scudiero D, et al. New colorimetric cytotoxicity assay for anticancer-drug screening. J Natl Cancer Inst. 1990;82(13):1107-1112.
Makchuchit S, Rattarom R, Itharat A. The anti-allergic and anti-inflammatory effects of Benjakul extract (a Thai traditional medicine),
its constituent plants and its some pure constituents using in vitro experiments. Biomed. Pharmacother. 2017;89:1018-1026.
Zou Y, Lu Y, Wei D. Antioxidant activity of a flavonoid-rich extract of Hypericum perforatum L. in vitro. J. Agric. Food Chem. 2004;52(16):5032-5039.
Park SH, Kim M, Lee S, Jung W, Kim B. Therapeutic Potential of Natural Products in Treatment of Cervical Cancer: A Review.
Nutrients. 2021;13(1):154.
Choudhari SK, Chaudhary M, Bagde S, Gadbail AR, Joshi V. Nitric oxide and cancer: a review. World J Surg Oncol. 2013;11:118.
Yadav P, Vats R, Bano A, Vashishtha A, Bhardwaj R. A Phytochemicals Approach Towards the Treatment of Cervical Cancer Using Polyphenols and Flavonoids. Asian Pac J Cancer. 2022;23(1):261-270.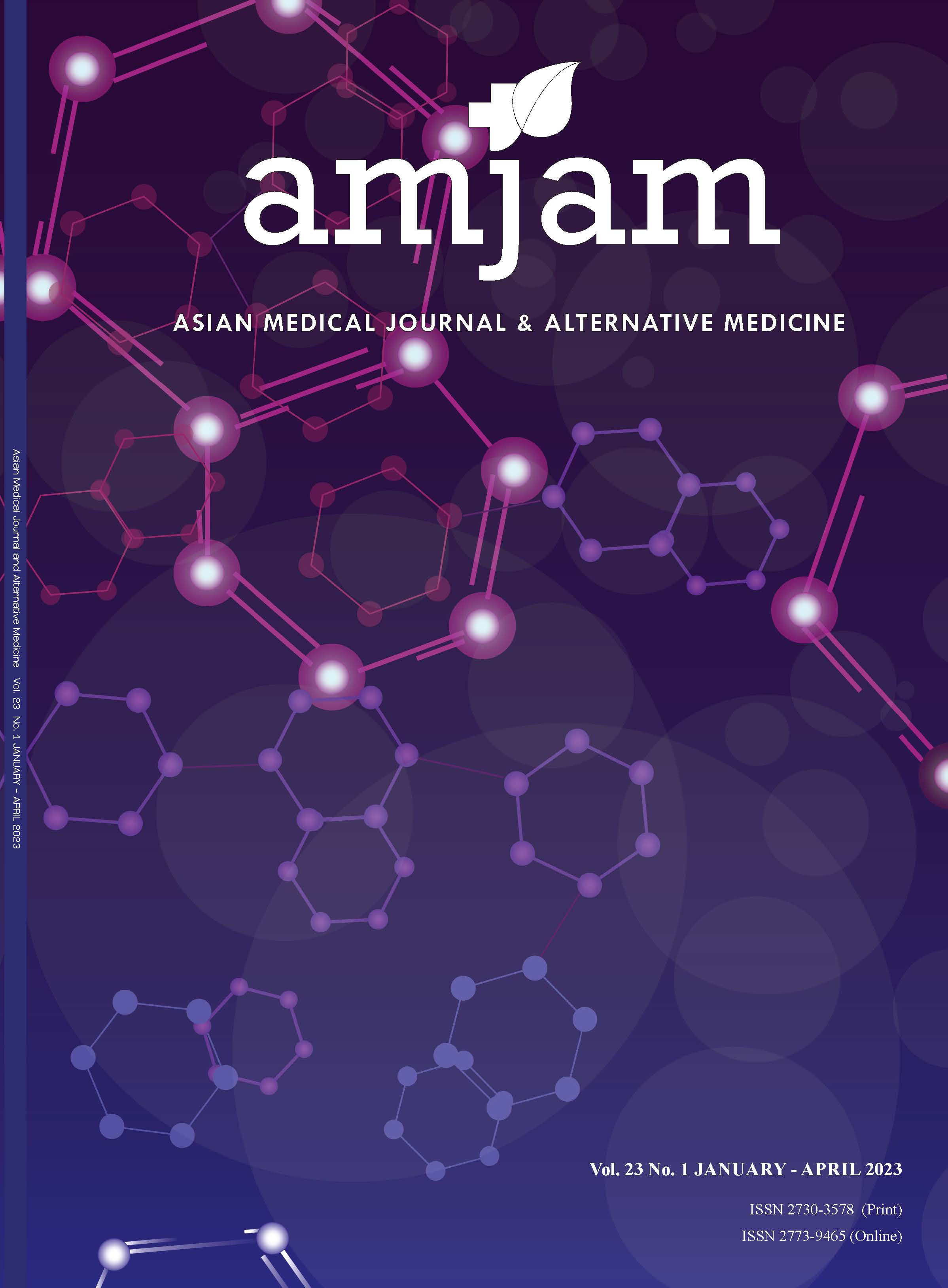 Downloads
How to Cite
[1]
Kwanchian, D. , Panthong, S., Ruangnoo, S. , Itharat, A. and Worawattananutai, P. 2023. In Vitro Anticancer and Anti-inflammatory Activities of Rauwenhoffia siamensis Scheff Root Extracts. Asian Medical Journal and Alternative Medicine. 23, 1 (Apr. 2023), 35–41.
Section
Original Articles
License
Copyright (c) 2023 Asian Medical Journal and Alternative Medicine
This work is licensed under a Creative Commons Attribution-NonCommercial-NoDerivatives 4.0 International License.