Factors Affecting CPAP Adherence in Thai Patients with Obstructive Sleep Apnea
Keywords:
Adherence, Compliance, Continues positive airway pressure, CPAP, Factors, Obstructive sleep apnea
Abstract
Introduction: Continuous positive airway pressure (CPAP) is an effective treatment for patients with obstructive sleep apnea (OSA). CPAP compliance affects short-term and long-term clinical outcomes. Data on factors associated with adherence to CPAP has been limited. This study aimed to determine the prevalence of CPAP adherence and factors affecting non-adherence in OSA patients.
Methods: A cross-sectional study was conducted in OSA patients aged 18 years or older with CPAP treatment. Demographics, clinical characteristics, and CPAP adherence (usage ≥ 4 hours/night for ≥ 70% of nights) at 2 weeks, 4 weeks, 3 months, and 6 months were recorded. Patients were divided into 2 groups: adherence and non-adherence.
Results: In total, 210 patients (61% male) participated in this study. Mean age was 53.5 ± 14.8 years. Body mass index was 30.7 ± 6.9 kg/m2. Comorbidities included hypertension (63%), heart disease (18%), and cerebrovascular disease (5%). Polysomnographic data showed apnea- hypopnea index was 48.9 ± 32.0 events/hour, nadir saturation was 79.3 ± 11.4% and 3% oxygen desaturation index was 14.3 ± 16.9 events/hour. Severe OSA was 68%. The proportion of CPAP adherence in 2 weeks, 4 weeks, 3 months, and 6 months was 59.1%, 60.0%, 57.6%, and 56.8%, respectively. The factors associated with CPAP non-adherence were CPAP mask off at night, irregular sleep time, no time to use CPAP, dry month, and doctor follow-up schedule more than 6 months. Moreover, when patients had good compliance at 2 weeks, they had significantly good compliance at 4 weeks, 3 months, and 6 months.
Conclusions: Only about a half of OSA patients had a good adherence to CPAP. There were many factors affecting CPAP adherence. When patients had a good compliance in a short-term period, they were likely to have good compliance in a long-term period.
Downloads
Download data is not yet available.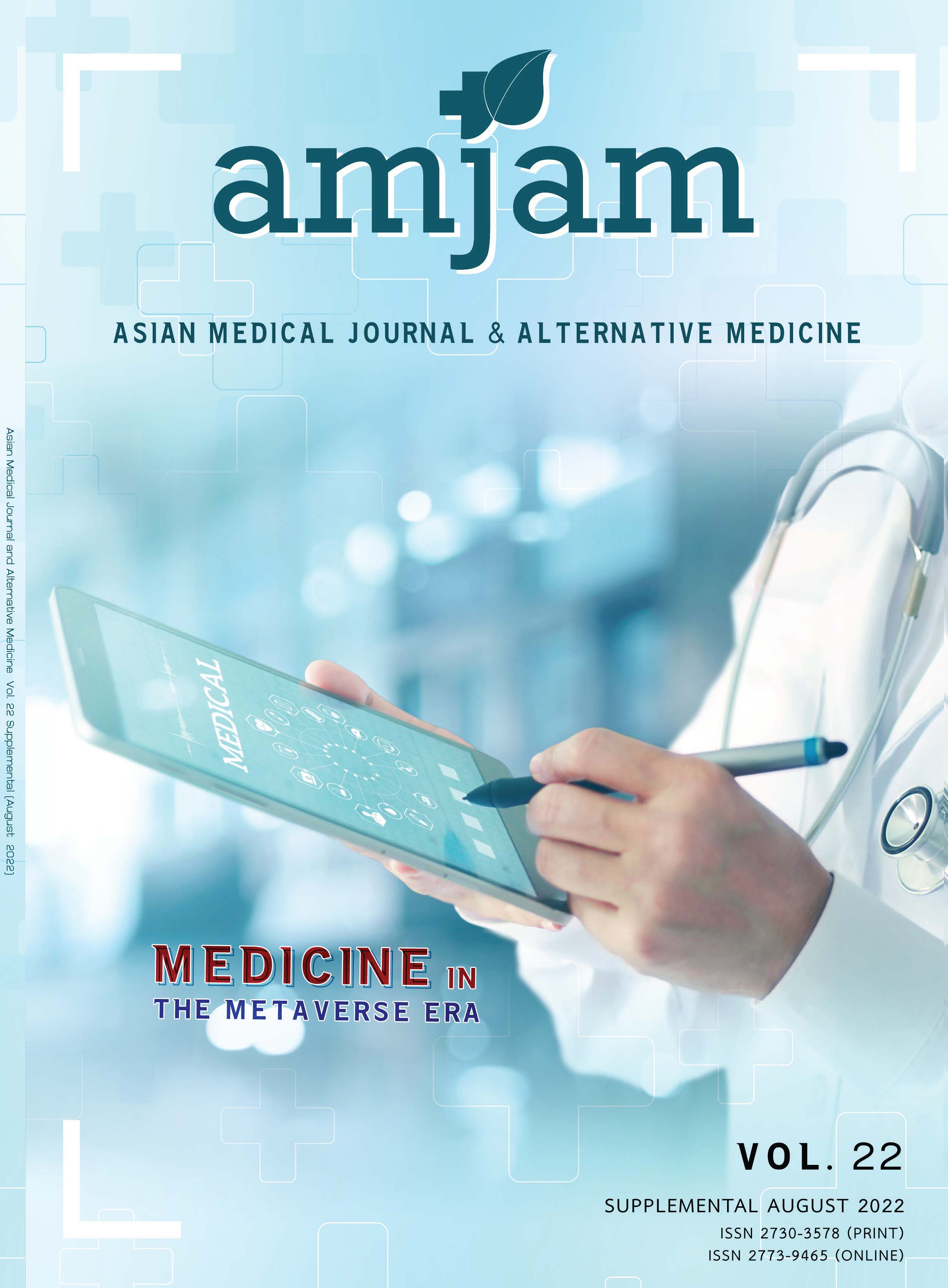 Downloads
How to Cite
[1]
Saiphoklang, N. , Leelasittikul, K., Pugongchai, A. , Suksupakit, S. and Sattaratpaijit, N. 2022. Factors Affecting CPAP Adherence in Thai Patients with Obstructive Sleep Apnea. Asian Medical Journal and Alternative Medicine. 22, - (Aug. 2022), S119. DOI:https://doi.org/10.14456/2022s10726.
License
This work is licensed under a Creative Commons Attribution-NonCommercial-NoDerivatives 4.0 International License.