Ocular Symptoms Assessment of COVID-19: A Cross-Sectional Study
Keywords:
COVID-19, Ocular covid, Online questionnaire
Abstract
Introduction: The coronavirus disease 2019 (COVID-19) is an emerging lower respiratory tract infectious disease, caused by severe acute respiratory syndrome coronavirus 2 (SARS-CoV-2).
Objectives: This research was purposed to assess the clinical manifestations of COVID-19 infection and the characteristics of ocular involvement.
Methods: This study is a cross-sectional quantitative study, an online questionnaire was performed on RT-PCR positive COVID-19 patients in Thailand.
Results: A total of 168 COVID-19 patients (32.3% male and 67.7% female) were enrolled in the study and completed an online questionnaire. The mean age of the patients was 39.14 ±12.7 years (ranging from 18 to 72 years). At the time of the study, only 40 patients (21.2%) were unvaccinated. Most of them presented with cough (n = 115, 67.6%), and acute viral syndrome symptoms (n = 115, 67.6%). The prevalence of COVID ocular involvement was estimated to be 20.6%. The most significant ocular manifestations, including eye discharge (n = 37, 19.6%), irritation (n = 31, 16.4%), epiphora (n = 30, 15.9%), and eye redness (n = 28, 14.8%), occurred within a week before COVID was detected. There was no correlation between vaccination and severe ocular symptoms (P = .305).
Conclusions: Although most COVID patients had systemic symptoms, ocular involvement presented in a minority and did not significantly affect ocular vision, which was disassociated from vaccination.
Downloads
Download data is not yet available.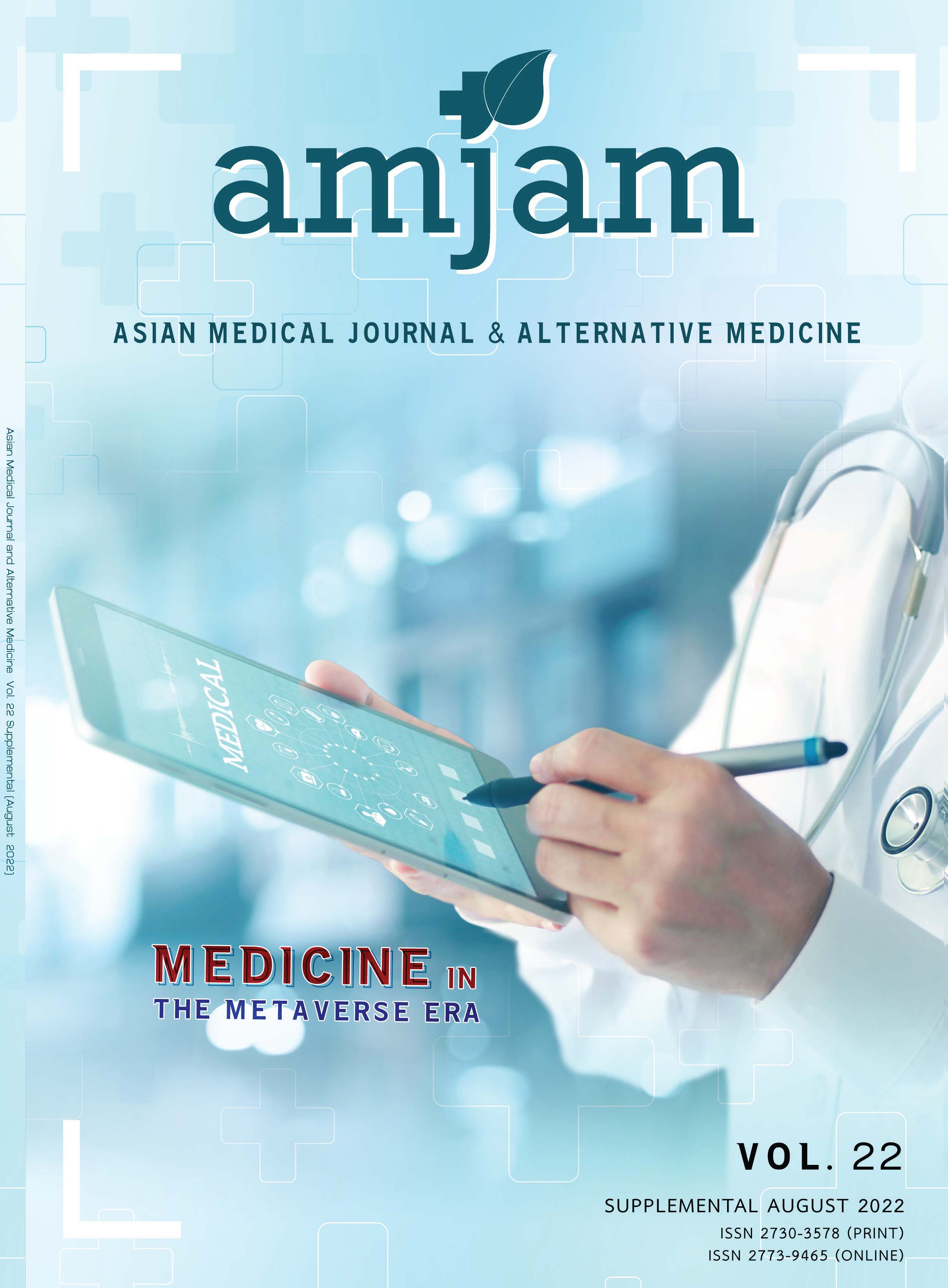 Downloads
How to Cite
[1]
Tangpagasit, W., Luangpitakchumpol, S. and Panittaveekul, K. 2022. Ocular Symptoms Assessment of COVID-19: A Cross-Sectional Study. Asian Medical Journal and Alternative Medicine. 22, - (Aug. 2022), S96. DOI:https://doi.org/10.14456/2022s10705.
License
This work is licensed under a Creative Commons Attribution-NonCommercial-NoDerivatives 4.0 International License.