Effect of Celastrol on Interleukin-8 Production and NF-kB Activation by Human Monocytes
Keywords:
Celastrol, Interleukin-8, NF-КB, Monocytes
Abstract
Introduction: Celastrol is a pentacyclic triterpene. Several studies have demonstrated that celastrol has therapeutic potential in many inflammatory diseases, e.g. allergic asthma, amyotrophic lateral sclerosis, and rheumatoid arthritis. A number of experiments in vitro have revealed that this agent can inhibit the inflammatory response in macrophages and endothelial cells.
Objectives: The anti-inflammatory property of celastrol was assessed via the inhibitory effect on interleukin-8 release by LPS-induced interleukin-8 production in human monocytes and investigated a potential mechanism of action through effects on LPS-stimulated nuclear factor- kappa B (NF-КB) activation.
Methods: Peripheral venous blood was taken from the forearm of healthy volunteers. Mononuclear cells were isolated and cultured. Human peripheral blood mononuclear cells (PBMCs) were isolated with Ficoll-Hyplaque from heparinized whole blood. Monocytes were positively selected from mononuclear cell fractions by positive selection with CD14+ immunomagnetic beads (Miltenyi Biotec), as per the manufacturer's instructions. Monocytes were counted in an improved Neubauer chamber and their viability assessed by trypan blue exclusion. Their purity was estimated more than 98%, based on flow cytometric staining with anti-CD14 antibody and anti-CD163 antibody. Monocytes were resuspended either in warm RPMI 1640 medium with 10% heat-inactivated FBS, for measurement of XTT cytotoxic assay, or in Iscoves's modified Dulbecco medium without phenol red supplemented with 100 IU/mL of penicillin and streptomycin for measurement of IL-8 production, IL-8 gene expression, and NF-КB activation from LPS-activated monocytes.
Results: Celastrol significantly reduced interleukin-8 release from LPS-treated monocytes when compared with LPS control with IC50 of 3.13 ± 0.03 µM. The inhibitory effect of celastrol on the production of interleukin-8 was related to the modulation of IL-8 mRNA level. Following the LPS stimulation, the phospho-NF-КB p65 subunit was remarkedly increased, while it was observed less in unstimulated monocytes. Celastrol at the concentration of 1 μM, 5 μM, and gliotoxin significantly inhibited the phospho-NF-КB p65 subunit activation.
Conclusions: Celastrol significantly inhibited interleukin-8 production from LPS-treated monocytes and suggest that inhibition of NF-КB activation is likely to be a mechanism for the effect. This anti-inflammatory action highlights a further therapeutic potential of this agent.
Downloads
Download data is not yet available.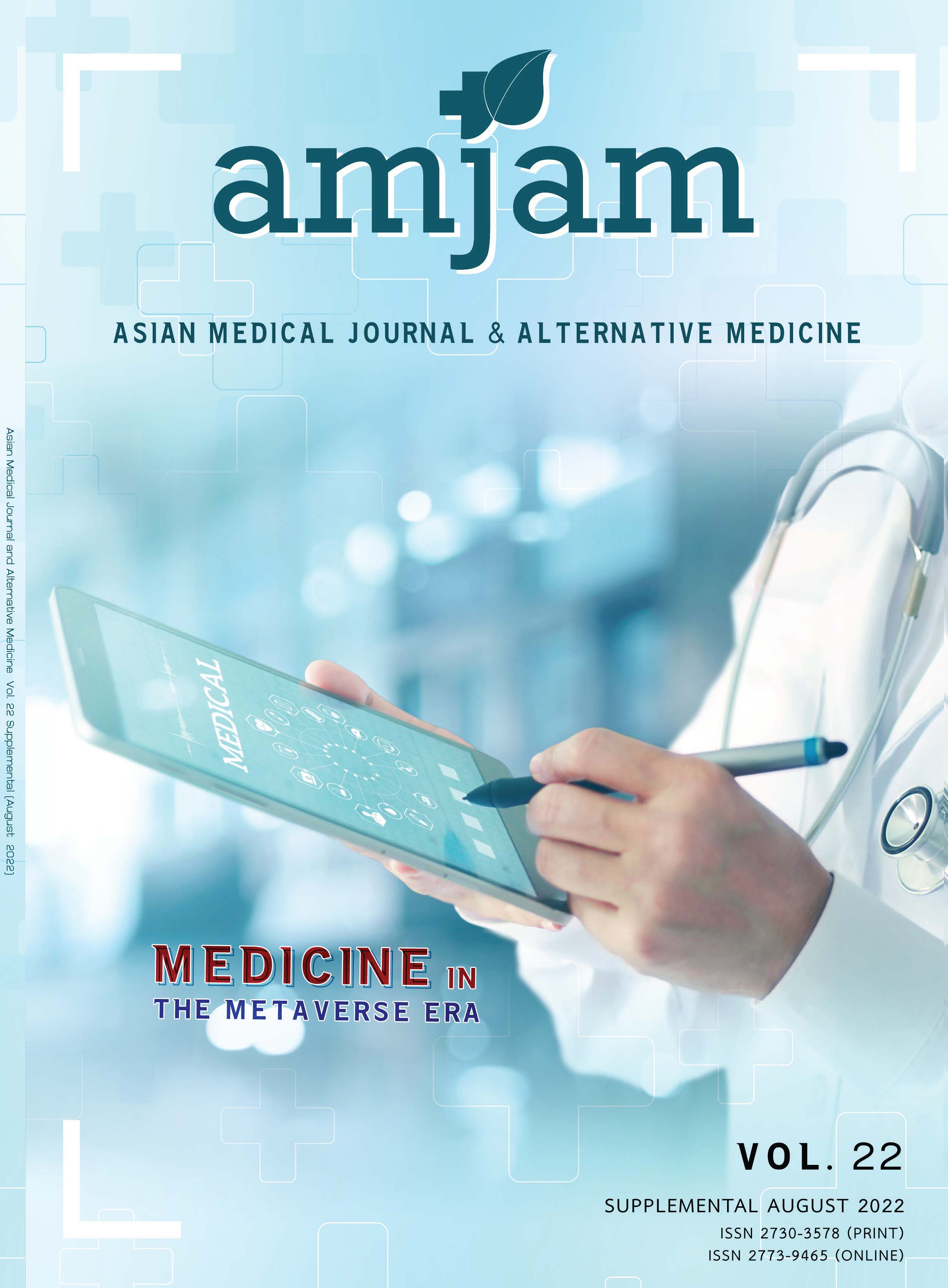 Downloads
How to Cite
[1]
Malisorn, N. and Chaikan, A. 2022. Effect of Celastrol on Interleukin-8 Production and NF-kB Activation by Human Monocytes. Asian Medical Journal and Alternative Medicine. 22, - (Aug. 2022), S125. DOI:https://doi.org/10.14456/2022s10732.
License
This work is licensed under a Creative Commons Attribution-NonCommercial-NoDerivatives 4.0 International License.