Current Prevalence and Geographic Distribution of Helminth Infection in the Parasitic Endemic Areas of Rural Northeastern Thailand
Keywords:
Helminth infection, Rural areas, Geographic findings, O. viverrini
Abstract
Introduction: Helminth infection is a global health issue that not only causes acute helminthiasis but long-term infection may lead to complicated symptoms as well as severe complications. The World Health Organization cooperated with the Ministry of Public Health in many countries, particularly where high prevalence, spending a lot of resources for limiting the infection. In Thailand, the incidence of parasitic helminth infections was continuously declined in the last few decades according to several campaigns for parasitic elimination. However, the rural community in the northeast of Thailand where the highest prevalence of the country still needs to be monitored.
Objectives: The present study reports the current prevalence of parasitic helminth infections in Nakhon Ratchasima and Chaiyaphum provinces where sharing a huge area of the northeast but only a few studies have been published.
Methods: The stool specimens were collected from 11,196 volunteers from these areas and processed by modified Kato-Katz thick smear and PBS-ethyl acetate concentration techniques also conventional PCR for parasitic investigation.
Results: Our results indicated that O. viverrini remains the major parasite in these areas with a prevalence of 5.05%, followed by Taenia spp., Hookworms, T. trichiura, and Echinostoma spp., respectively. Mueang district of Chaiyaphum province hasthe highest prevalence, especially, O. viverrini with a prevalence of 7.15% that is higher than the latest national surveillance. Interestingly, the prevalence of O. viverrini in some subdistricts was hugely reported by more than 20%. The geographic localization in the two highest-prevalence subdistricts revealed that both subdistricts were having a lot of water reservoirs, such as, lakes or branches of the river. In contrast to other previous studies, our finding indicated that gender and age insignificantly contributed to the differences among the participants.
Conclusions: This finding suggested that the parasitic helminth infection in the rural areas of northeast of Thailand remains high and the housing location is a major contributing factor for the parasitic infection.
Downloads
Download data is not yet available.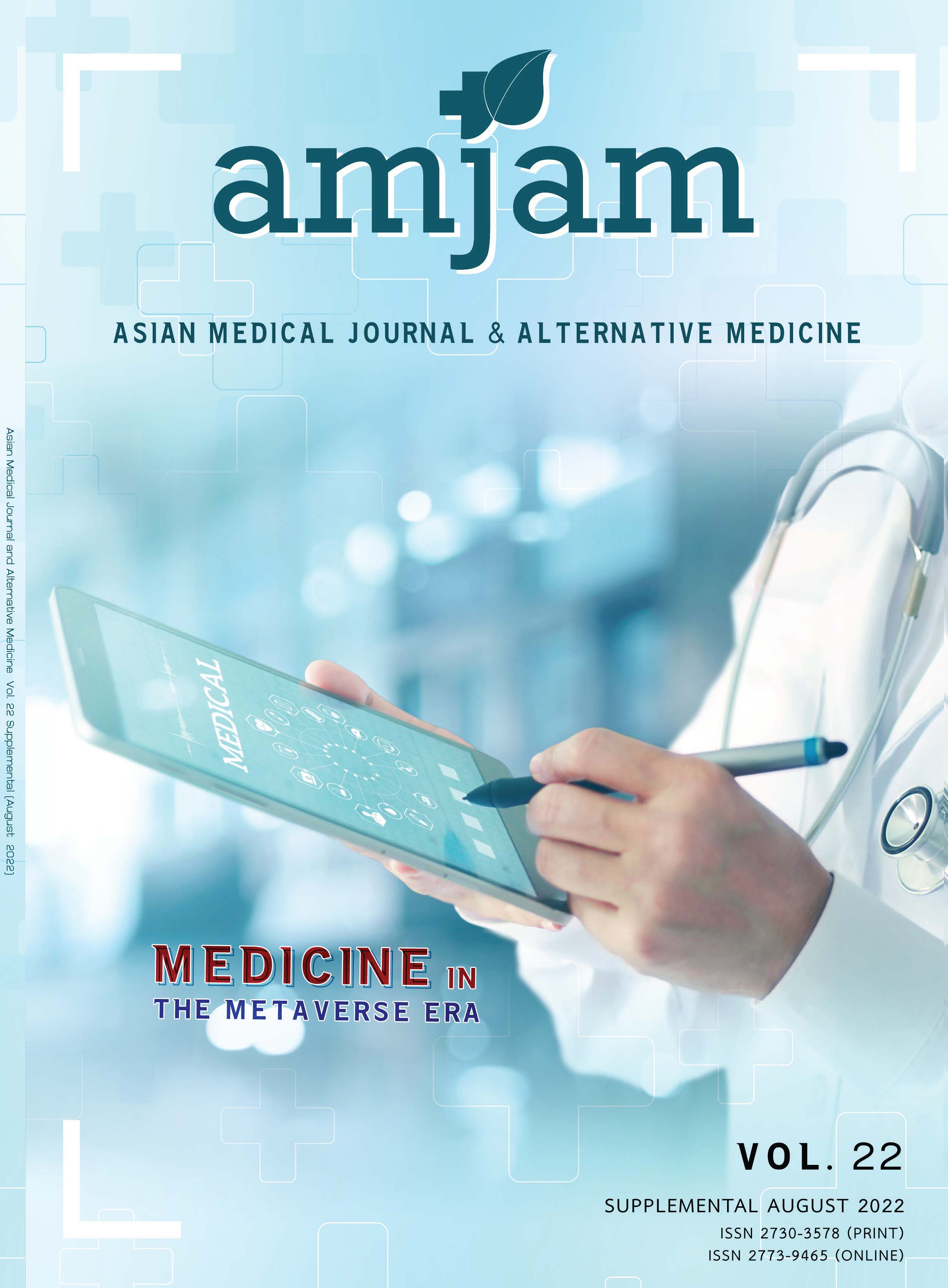 Downloads
How to Cite
[1]
Martviset, P. , Phadungsil, W. , Na-Bangchang, K. and Chantree, P. 2022. Current Prevalence and Geographic Distribution of Helminth Infection in the Parasitic Endemic Areas of Rural Northeastern Thailand. Asian Medical Journal and Alternative Medicine. 22, - (Aug. 2022), S129. DOI:https://doi.org/10.14456/2022s10736.
License
This work is licensed under a Creative Commons Attribution-NonCommercial-NoDerivatives 4.0 International License.