Clinical Efficacy and Safety of Pra-Sa-Mang-Khud Nanolotion in Mild to Moderate Acne Vulgaris
Keywords:
Acne vulgaris, Pra-Sa-Mang-Khud, Nanolotion, Closed patch test, Clinical study
Abstract
Introduction: Pra-Sa-Mang-Khud (PSM) formula as the mixture of mangosteen pericarp and Ha-Rak remedy was developed for acne treatment. PSM extract had been developed to be an anti-acne gel (application no.1301002804). However, PSM gel had the potential to induce skin irritation. Therefore, nanolotion containing PSM extract was also developed to reduce irritation and increase the effectiveness of PSM extract.
Objectives: To investigate phase I clinical study on skin irritation and allergic reaction and phase II on efficacy and safety for acne vulgaris treatment.
Methods: The irritation and allergic contact dermatitis of PSM nanolotion were studied in 30 healthy volunteers using closed patch test. A 12-week, investigator-blind, randomized controlled trial, split-face study were conducted to evaluate the efficacy and safety of PSM nanolotion versus 2.5% benzoyl peroxide (BP) gel in 35 volunteers with mild to moderate acne vulgaris.
Results: None of the volunteers had irritation and allergic reaction to PSM nanolotion. PSM nanolotion and BP gel showed effectiveness in reducing acne lesions. Moreover, PSM nanolotion showed a significant reduction of non-inflammatory lesions from baseline to week 12th, with the median lesions count of 13 to be 3 (a reduction rate of 76.11%), and inflammatory lesions significantly decreased rate from 6 to be 2 with a reduction rate of 66.67% at the end of the study.
Conclusions: PSM nanolotion is safe to use on facial skin and effectively treats acne vulgaris in both non-inflammatory and inflammatory lesions. The clinical study clearly supported that PSM nanolotion could be used as an anti-acne topical product.
Downloads
Download data is not yet available.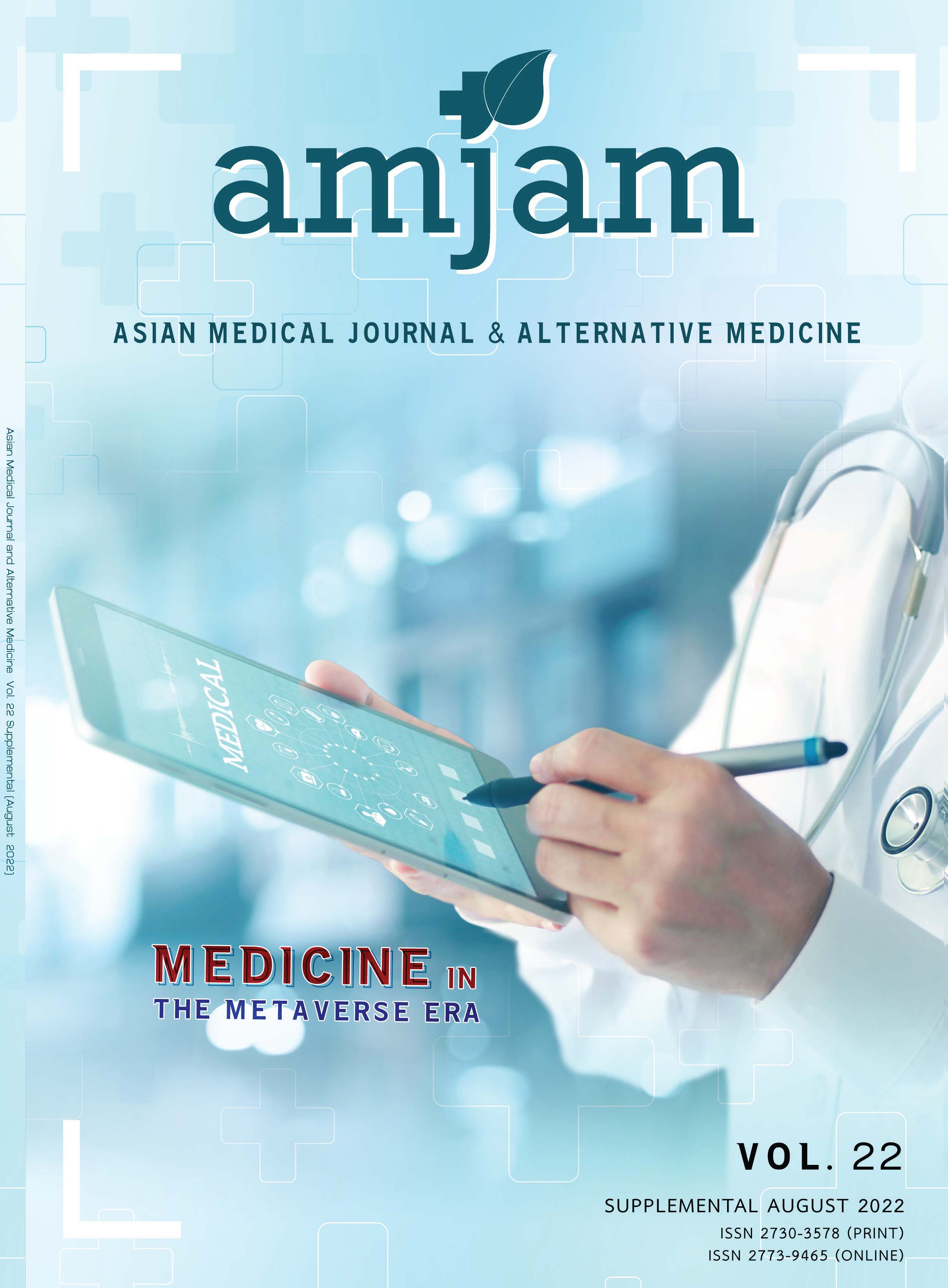 Downloads
How to Cite
[1]
Phumlek, K., Itharat, A., Pongcharoen, P., Chakkavittumrong, P. and Davies, N.M. 2022. Clinical Efficacy and Safety of Pra-Sa-Mang-Khud Nanolotion in Mild to Moderate Acne Vulgaris. Asian Medical Journal and Alternative Medicine. 22, - (Aug. 2022), S107. DOI:https://doi.org/10.14456/2022s10716.
License
This work is licensed under a Creative Commons Attribution-NonCommercial-NoDerivatives 4.0 International License.