Thai Traditional Medical Remedies in Worayokasarn Scripture for Treating Obesity
Downloads
Download data is not yet available.
References
Subramanian, G., Shanmugamprema, D., Subramani, R., Muthuswamy, K., Ponnusamy, V., Tankay, K., Velusamy, T., Krishnan, V., Subramaniam, S., Anti-Obesity Effect of T. Chebula Fruit Extract on High Fat Diet Induced Obese Mice: A Possible Alternative Therapy. Mol. Nutr. Food Res. 2021;65: 2001224.
Makihara, H., Shimada, T., Machida, E. et al. Preventive effect of Terminalia bellirica on obesity and metabolic disorders in spontaneously obese type 2 diabetic model mice. J Nat Med, 2012;66:459-467.
Balusamy SR, Veerappan K, Ranjan A, et al. Phyllanthus emblica fruit extract attenuates lipid metabolism in 3T3-L1 adipocytes via activating apoptosis mediated cell death. Phytomedicine. 2020;66:153129.
Majeed M, Nagabhushanam K, Bhat B, Ansari M, Pandey A, Bani S, Mundkur L. The AntiObesity Potential of Cyperus rotundus Extract Containing Piceatannol, Scirpusin A and Scirpusin B from Rhizomes: Preclinical and Clinical Evaluations. Diabetes Metab Syndr Obes. 2022;15:369-382.
Sriyapai C, Dhumma-upakorn R, Sangwatanaroj S, Kongkathip N, Krittiyanunt S. Hypoglycemic effect of Tinospora crispa dry powder in outpatients with metabolic syndrome at King Chulalongkorn memorial hospital. J Health Res. 2009;23:125-133.
Kim JH, Kim OK, Yoon HG, et al. Anti-obesity effect of extract from fermented Curcuma longa L. through regulation of adipogenesis and lipolysis pathway in high-fat diet-induced obese rats. Food & Nutrition Research. 2016; 60(1):30428.
Lee MH, Chen YY, Tsai JW, Wang SC, Watanabe T, Tsai YC. Inhibitory effect of β-asarone, a component of Acorus calamus essential oil, on inhibition of adipogenesis in 3T3-L1 cells. Food Chemistry. 2011;126(1):1-7.
Seo SH, Fang F, Kang I. Ginger (Zingiber officinale) attenuates obesity and adipose tissue remodeling in high-fat diet-fed C57BL/6 Mice. International Journal of Environmental Research and Public Health. 2021;18(2):631.
Parim B, Harishankar N, Balaji M, Pothana S, Sajjalaguddam RR. Effects of Piper nigrum extracts: Restorative perspectives of high-fat
diet-induced changes on lipid profile, body composition, and hormones in Sprague–
Dawley rats. Pharmaceutical Biology. 2015;53(9):1318-1328.
Kim KJ, Lee MS, Jo K, Hwang JK. Piperidine alkaloids from Piper retrofractum Vahl. protect against high-fat diet-induced obesity by regulating lipid metabolism and activating AMP-activated protein kinase. Biochemical and Biophysical Research Communications. 2011;411(1):219-225.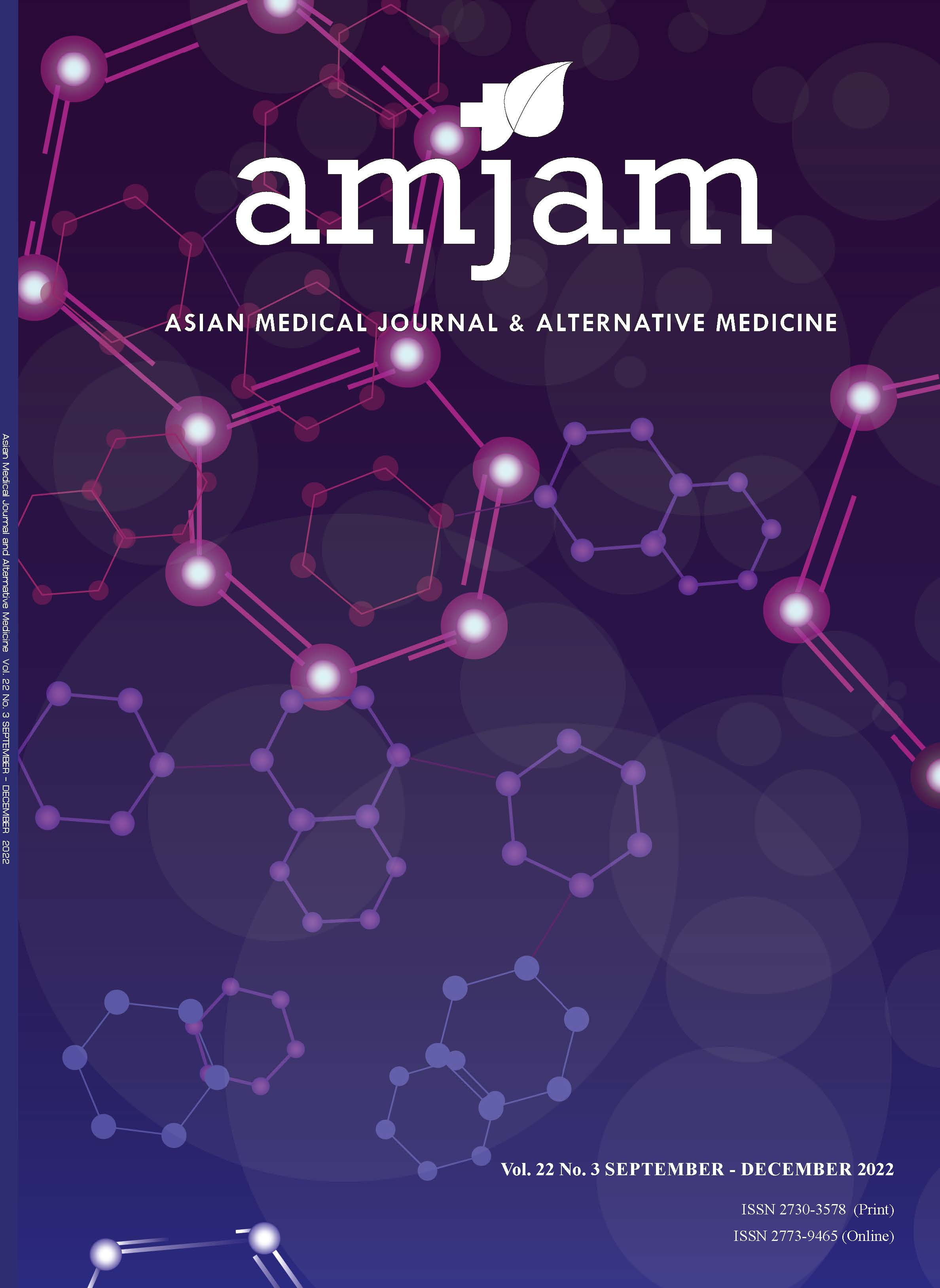 Downloads
How to Cite
[1]
Chaiyawathanananthn, P. 2022. Thai Traditional Medical Remedies in Worayokasarn Scripture for Treating Obesity. Asian Medical Journal and Alternative Medicine. 22, 3 (Dec. 2022), 173–175. DOI:https://doi.org/10.14456/2022030601.
License
Copyright (c) 2022 Asian Medical Journal and Alternative Medicine
This work is licensed under a Creative Commons Attribution-NonCommercial-NoDerivatives 4.0 International License.