Prevalence and related factors of at-risk of dyslexia in Thai preschool children
Keywords:
Dyslexia, Preschool, At-risk for dyslexia, Language development, Family socioeconomic status
Abstract
This study aimed to investigate the prevalence of at-risk dyslexia and its risk factors in Thai preschoolers. Our results found a relatively high prevalence of at-risk preschoolers (22.14%). Family socioeconomic status, family history of learning difficulties, and the child's language development were risk factors for this condition.
Downloads
Download data is not yet available.
References
Colenbrander D, Ricketts J, Breadmore HL. Early Identification of Dyslexia: Understanding the Issues. Lang Speech Hear Serv Sch. 2018;49(4):817-828.
Peterson RL, Pennington BF. Developmental dyslexia. Lancet. 2012;379(9830):1997-2007.
Roongpraiwan R, Ruangdaraganon N, Visudhiphan P, Santikul K. Prevalence and clinical characteristics of dyslexia in primary school students. J Med Assoc Thai. 2002;85(11):1097-1103.
American Psychiatric Association. Diagnostic and statistical manual of mental disorders: DSM-5. 5 ed. Washington, DC: American Psychiatric Publishing; 2013.
Ferrer E, Shaywitz BA, Holahan JM, Marchione KE, Michaels R, Shaywitz SE. Achievement Gap in Reading Is Present as Early as First Grade and Persists through Adolescence. J Pediatr. 2015;167(5):1121-5 e2.
William K, Frankenburg, Josiah D, Philip A, Howard S, Beverly B. Denver II training manual. Colorado: Denver Developmental Materials; 1992.
Mullen EM. Mullen scales of early learning (AGS ed.). Minneapolis: MN: American Guidance Service; 1995.
Yampratoom R, Aroonyadech N, Ruangdaraganon N, Roongpraiwan R, Kositprapa J. Emergent Literacy in Thai Preschoolers: A Preliminary Study. J Dev Behav Pediatr.
;38(6):395-400.
Lerthattasilp T, Sritipsukho P, Chunsuwan I. Reading Problems and Risk of Dyslexia Among Early Elementary Students in Thailand. J Popul Soc Stud. 2022;30:726-740.
McKean C, Reilly S, Bavin EL, Bretherton L, Cini E, Conway L, et al. Language Outcomes at 7 Years: Early Predictors and Co-Occurring Difficulties. Pediatrics. 2017;139(3): e20161684.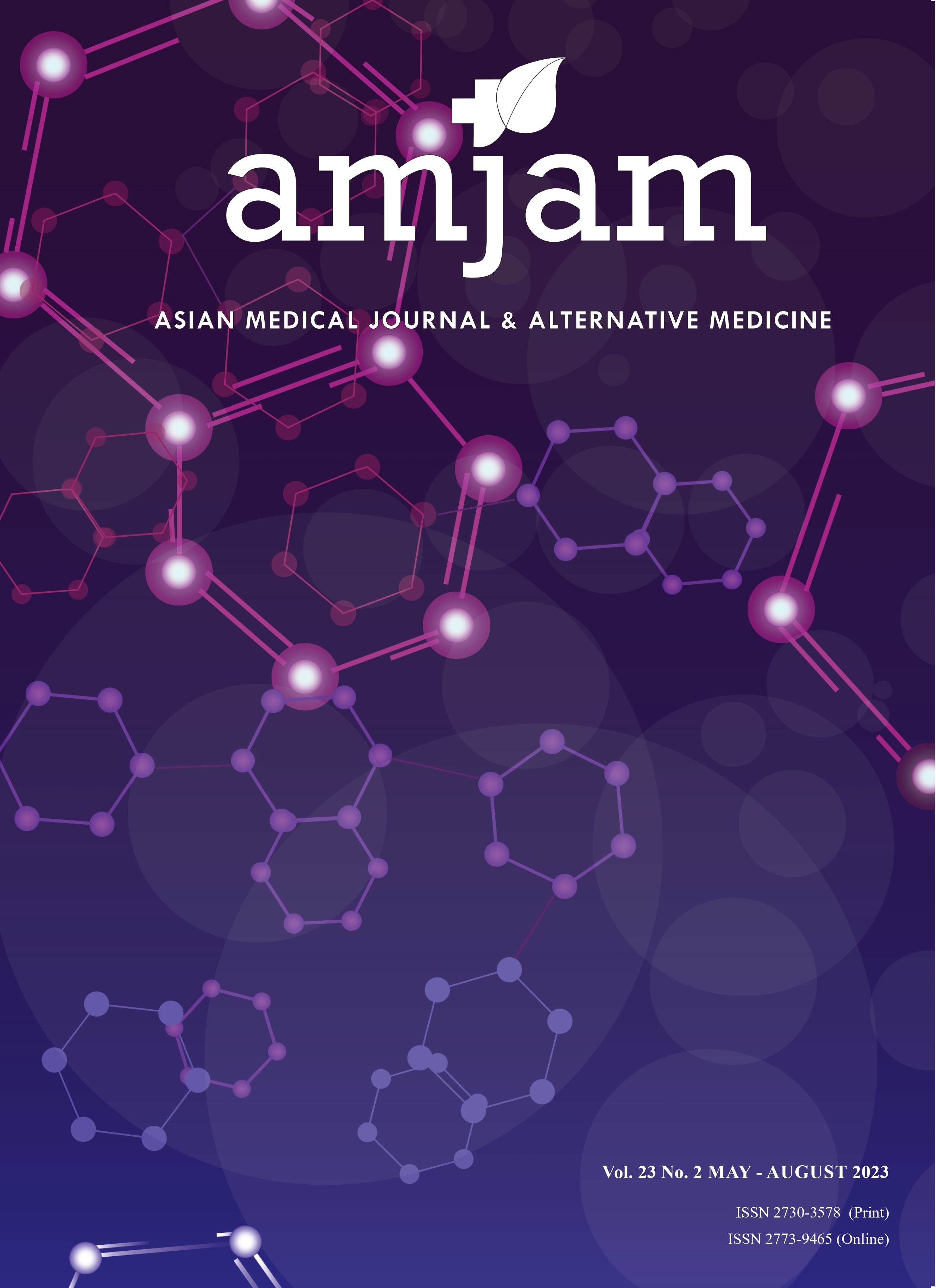 Downloads
How to Cite
[1]
Wannapaschaiyong, P. and Sutchritpongsa, S. 2023. Prevalence and related factors of at-risk of dyslexia in Thai preschool children. Asian Medical Journal and Alternative Medicine. 23, 2 (Aug. 2023), 143–147.
License
Copyright (c) 2023 Asian Medical Journal and Alternative Medicine
This work is licensed under a Creative Commons Attribution-NonCommercial-NoDerivatives 4.0 International License.