Quality Control, Antidiabetic, and Anti-inflammatory Effects, as Measured by Alpha-Amylase and Alpha-Glucosidase Activities, of a Weight-Loss Remedy from Worayokasan Scripture
Effect of a Weight-Loss Remedy
Keywords:
Weight-Loss remedy, Alpha-Amylase, Alpha-Glucosidase, Type 2 diabetes
Abstract
Introduction:    Diabetes is characterized by chronic hyperglycemia, which increases the risk of free radical generation and disease. Obesity is a major risk factor for Type 2 Diabetes (T2DM). The Weight-Loss (WL) remedy from Worayokasan scripture, consisting of C. rotundus rhizomes (CR), T. chebula fruits (TCb), and T. crispa stem (TCp), has shown promising results for weight loss. However, there are no reports on its anti-diabetic activities.
Objectives:        The objectives of this study were to analyze the quality control, anti-diabetic, and anti-inflammatory properties of the WL remedy.
Methods:           Quality control was performed following the Thai Herbal Pharmacopoeia (THP) method. The anti-diabetic effects were measured by inhibition of α-amylase and α-glucosidase, and the anti-inflammatory effects were measured by reducing nitric oxide (NO) production of ethanolic and water extracts of the WL remedy and its plant constituents were also studied.
Results:              The WL remedy passed the THP guidelines for quality control. T. crispa stem' water extract (TCpW) was the most effective α-glucosidase inhibitor, with IC50 values of 201.28 µg/mL, outperforming the positive control acarbose (IC50 = 219.94 µg/mL). WLH, WLW, and WLE showed moderate α-glucosidase inhibitory activity, with IC50 values of 540.04, 680.07, and 894.32 µg/mL, respectively. However, all samples had low α-amylase inhibitory activity (IC50 > 1000 µg/mL). C. rotundus rhizomes' ethanolic extract (CRE) showed inhibited NO production with an IC50 value of 31.93 µg/mL.
Conclusions:      The results of this study suggest that the WL remedy has anti-diabetic and weight-loss properties. It can be developed into a dietary supplement that may be beneficial for individuals with T2DM.
Downloads
Download data is not yet available.
References
GBD 2015 Obesity Collaborators, Afshin A, Forouzanfar MH, et al. Health Effects of Overweight and Obesity in 195 Countries over 25 Years. N Engl J Med. 2017;377(1):13-27.
Maggio CA, Pi-Sunyer FX. Obesity and type 2 diabetes. Endocrinol Metab Clin North Am. 2003;32(4):805-viii.
IDF Diabetes Atlas 2021 | IDF Diabetes Atlas. IDF Diabetes Atlas 2021 | IDF Diabetes Atlas.
Alrefai H, Allababidi H, Levy S, Levy J. The Endocrine System in Diabetes Mellitus. Endocrine. 2002;18(2):105-120.
Ur Rehman N, Halim SA, Al-Azri M, et al. Triterpenic Acids as Non-Competitive α-Glucosidase Inhibitors from Boswellia elongata with Structure-Activity Relationship: In Vitro and In Silico Studies. Biomolecules. 2020;10(5):751.
Tripathi BK, Srivastava AK. Diabetes mellitus: complications and therapeutics. Med Sci Monit. 2006;12(7):RA130-RA147.
Sasidharan I, Sundaresan A, Nisha VM, Kirishna MS, Raghu KG, Jayamurthy P. Inhibitory effect of Terminalia chebulaRetz. fruit extracts on digestive enzyme related to diabetes and oxidative stress. Journal of Enzyme Inhibition and Medicinal Chemistry. 2012;27(4):578-586.
Souza PM, Sales PM, Simeoni LA, Silva EC, Silveira D, Magalhães Pde O. Inhibitory activity of α-amylase and α-glucosidase by plant extracts from the Brazilian cerrado. Planta Med. 2012;78(4):393-399.
Chiasson JL, Josse RG, Gomis R, Hanefeld M, Karasik A, Laakso M. Acarbose for prevention of type 2 diabetes mellitus: the STOP-NIDDM randomised trial. The Lancet. 2002;359(9323):2072-2077.
Younus M, Hasan MM ul, Ahmad K, et al. α-Glucosidase Inhibitory, Anti-Oxidant, and Anti-Hyperglycemic Effects of Euphorbia nivulia–Ham. in STZ-Induced Diabetic Rats. Dose-Response. 2020;18(3):155932582093942.
Harrison DE, Strong R, Alavez S, et al. Acarbose improves health and lifespan in aging HET3 mice. Aging Cell. 2019;18(2):e12898.
Dirir AM, Daou M, Yousef AF, Yousef LF. A review of alpha-glucosidase inhibitors from plants as potential candidates for the treatment of type-2 diabetes. Phytochemistry Reviews. 2021;21(4):1049-1079.
Ardalani H, Hejazi Amiri F, Hadipanah A, Kongstad KT. Potential antidiabetic phytochemicals in plant roots: a review of in vivo studies. J Diabetes Metab Disord.
;20(2):1837-1854.
Kumar V, Prakash O, Kumar S, Narwal S. α-glucosidase inhibitors from plants: A natural approach to treat diabetes. Pharmacognosy Reviews. 2011;5(9):19.
Aruoma OI, Landes B, Ramful-Baboolall D, et al. Functional benefits of citrus fruits in the management of diabetes. Preventive Medicine. 2012;54:S12-S16.
Ayuraved-Wittayarai Foundation. Thai traditional medicine textbook (Paet-Saat- SongKror), 1st edition. Ministry of Public Health. 1998;453-486.
Chaiyawathanananthn, P. Thai Traditional Medical Remedies in Worayokasarn Scripture for Treating Obesity. Asian Medical Journal and Alternative Medicine. 2022;22(3):173–175.
Ahmad W, Jantan I, Bukhari SNA. Tinospora crispa (L.) Hook. f. & Thomson: A Review of Its Ethnobotanical, Phytochemical, and Pharmacological Aspects. Frontiers in Pharmacology. 2016;7.
Markovic TP, Campbell LV, Balasubramanian S, et al. Beneficial Effect on Average Lipid Levels From Energy Restriction and Fat Loss in Obese Individuals With or Without Type 2 Diabetes. Diabetes Care. 1998;21(5):695-700.
Markovic TP, Jenkins AB, Campbell LV, Furler SM, Kraegen EW, Chisholm DJ. The Determinants of Glycemic Responses to Diet Restriction and Weight Loss in Obesity and NIDDM. Diabetes Care. 1998;21(5):687-694.
Department of Medical Sciences, Ministry of Public Health. Thai Herbal Pharmacopoeia 2021 Supplement 2022. (Available from:https://bdn.go.th/thp/ebook/qQIcZatkpR9gC3q0GT5gMJq0qT5co3uw).
Lordan S, Smyth TJ, Soler-Vila A, Stanton C, Ross RP. The α-amylase and α-glucosidase inhibitory effects of Irish seaweed extracts. Food Chemistry. 2013;141(3):2170-2176.
Kumar JA, Tiwari AK, Ali AZ, et al. New antihyperglycemic, alpha-glucosidase inhibitory, and cytotoxic derivatives of benzimidazoles. J Enzyme Inhib Med Chem. 2010;25(1):80-86.
Gowri PM, Tiwari AK, Ali AZ, Rao JM. Inhibition of α-glucosidase and amylase by bartogenic acid isolated from Barringtonia racemosa Roxb. seeds. Phytotherapy Research. 2007;21(8):796-799.
Anuthakoengkun A, Itharat A. Inhibitory effect on nitric oxide production and free radical scavenging activity of Thai medicinal plants in osteoarthritic knee treatment. J Med Assoc Thai. 2014;97 Suppl 8:S116-S124.
Noor H, Hammonds P, Sutton R, Ashcroft SJH. The hypoglycaemic and insulinotropic activity of Tinospora crispa: studies with human and rat islets and HIT-T15 B cells. Diabetologia. 1989;32(6):354-359.
Thomas A, Rajesh EK, Kumar DS. The Significance of Tinospora crispain Treatment of Diabetes Mellitus. Phytotherapy Research. 2016;30(3):357-366.
Boonyuenyong K, Houngiam K, Chaiyawatthanananthn P. Anti-oxidation Activities of a Thai Remedy in Worayokasan Scripture. Asian Medical Journal and Alternative Medicine. 2022;22.
Sabu MC, Kuttan R. Anti-diabetic activity of
medicinal plants and its relationship with their antioxidant property. Journal of Ethnopharmacology. 2002;81(2):155-160.
Ahmadi-Naji R, Heidarian E, GhatrehSamani K. Evaluation of the effects of the hydroalcoholic extract of Terminalia chebula fruits on diazinon-induced liver toxicity and oxidative stress in rats. Avicenna J Phytomed.
;7(5):454-466.
Tran HH, Nguyen MC, Le HT, et al. Inhibitors of α-glucosidase and α-amylase from Cyperus rotundus. Pharm Biol. 2014;52(1):74-77.
Raut NA, Gaikwad NJ. Antidiabetic activity of hydro-ethanolic extract of Cyperus rotundus in alloxan induced diabetes in rats. Fitoterapia. 2006;77(7-8):585-588.
Elbashir SMI, Devkota HP, Wada M, et al. Free radical scavenging, α-glucosidase inhibitory and lipase inhibitory activities of eighteen Sudanese medicinal plants. BMC Complementary and Alternative Medicine. 2018;18(1).
Majeed M, Nagabhushanam K, Bhat B, et al. The Anti-Obesity Potential of Cyperus rotundus Extract Containing Piceatannol, Scirpusin A and Scirpusin B from Rhizomes: Preclinical and Clinical Evaluations. Diabetes Metab Syndr Obes. 2022;15:369-382.
Temrangsee P, Itharat A, Sattaponpan C, Pipatrattanaseree W. Inhibitory Effect on Alpha-glucosidase Activity of Benjakul, Soros Benjakul and Their Plant Components. Thammasat Medical Journal. 2019;Vol. 19 (No. 4): 645-653.
Ćorković I, Gašo-Sokač D, Pichler A, Šimunović J, Kopjar M. Dietary Polyphenols as Natural Inhibitors of α-Amylase and α-Glucosidase. Life. 2022;12(11):1692.
Bajaj S, Khan A. Antioxidants and diabetes. Indian J Endocrinol Metab. 2012;16(Suppl 2):S267-S271.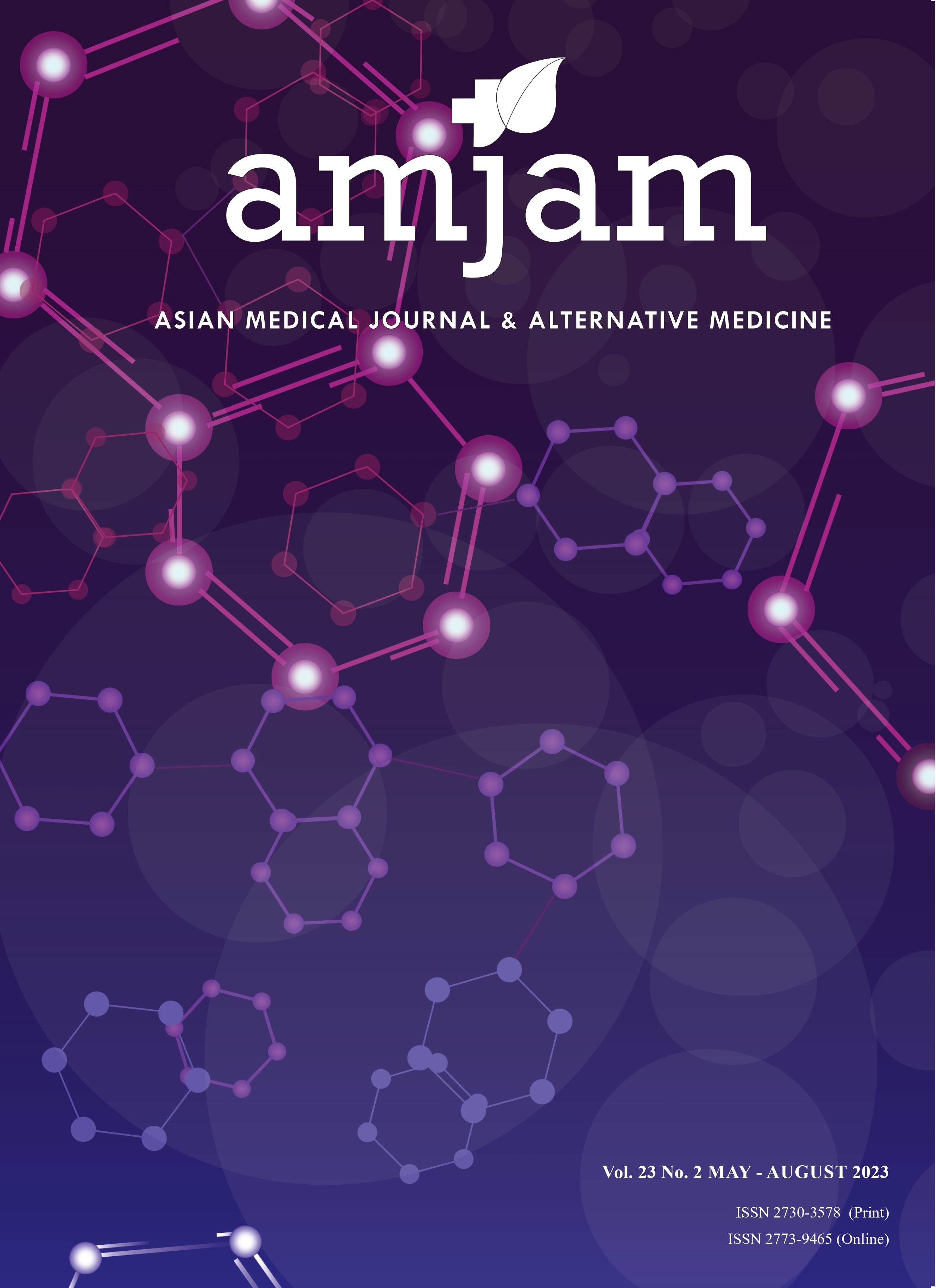 Downloads
How to Cite
[1]
Choockong, C. , Chaiyawatthanananthn, P. , Ninlaor, T. , Davies, N.M. and Itharat, A. 2023. Quality Control, Antidiabetic, and Anti-inflammatory Effects, as Measured by Alpha-Amylase and Alpha-Glucosidase Activities, of a Weight-Loss Remedy from Worayokasan Scripture: Effect of a Weight-Loss Remedy. Asian Medical Journal and Alternative Medicine. 23, 2 (Aug. 2023), 118–128.
Section
Original Articles
License
Copyright (c) 2023 Asian Medical Journal and Alternative Medicine
This work is licensed under a Creative Commons Attribution-NonCommercial-NoDerivatives 4.0 International License.