A 6-Step Desensitization Protocol in a Pediatric Patient with L-asparaginase Anaphylaxis: A Case Report
Abstract
          L-asparaginase (L-asp) is an important chemotherapeutic drug for acute lymphoblastic leukemia. Desensitization is useful in administering medication to patients who have drug-induced anaphylaxis when alternative drugs are not available.
Case: We report a successful case of a 3-year-old Thai boy with L-asp induced anaphylaxis using our 6-step desensitization protocol, with 0.1%, 1%, 5%, 10%, 42%, and the remaining 42% of the total dose of L-asp.
Downloads
Download data is not yet available.
References
Egler RA, Ahuja SP, Matloub Y. L-asparaginase in the treatment of patients with acute lymphoblastic leukemia. J Pharmacol Pharmacother. 2016;7(2):62-71.
Soyer OU, Aytac S, Tuncer A, Cetin M, Yetgin S, Sekerel BE. Alternative algorithm for L-asparaginase allergy in children with acute lymphoblastic leukemia. J Allergy Clin Immunol. 2009;123(4):895-899.
Akbayram S, Dogan M, Akgun C, Caksen H, Oner AF. A desensitization protocol in children with L-asparaginase hypersensitivity. J Pediatr Hematol Oncol. 2010;32(5):187-191.
Bahadır A AM RP, Erduran E, Orhan F. Adverse Skin Reactions Caused by L-Asparaginase. Adverse Skin Reactions Caused by L-Asparaginase: Allergy or infection. . Asthma Allergy Immunol. 2015;13:130-133.
Burke MJ. How to manage asparaginase hypersensitivity in acute lymphoblastic leukemia. Future Oncol. 2014;10(16):2615-2627.
Ruggiero A, Triarico S, Trombatore G, et al. Incidence, clinical features and management of hypersensitivity reactions to chemotherapeutic drugs in children with cancer. Eur J Clin Pharmacol. 2013;69(10):1739-1746.
Giavina-Bianchi P, Patil SU, Banerji A. Immediate Hypersensitivity Reaction to Chemotherapeutic Agents. J Allergy Clin Immunol Pract. 2017;5(3):593-599.
Cernadas JR, Brockow K, Romano A, et al. General considerations on rapid desensitization for drug hypersensitivity - a consensus statement. Allergy. 2010;65(11):1357-1366.
Burke MJ, Rheingold SR. Differentiating hypersensitivity versus infusion-related reactions in pediatric patients receiving intravenous asparaginase therapy for acute lymphoblastic leukemia. Leuk Lymphoma. 2017;58(3):540-551.
Van der Sluis IM, Vrooman LM, Pieters R, et al. Consensus expert recommendations for identification and management of asparaginase hypersensitivity and silent inactivation. Haematologica. 2016;101(3):279-85.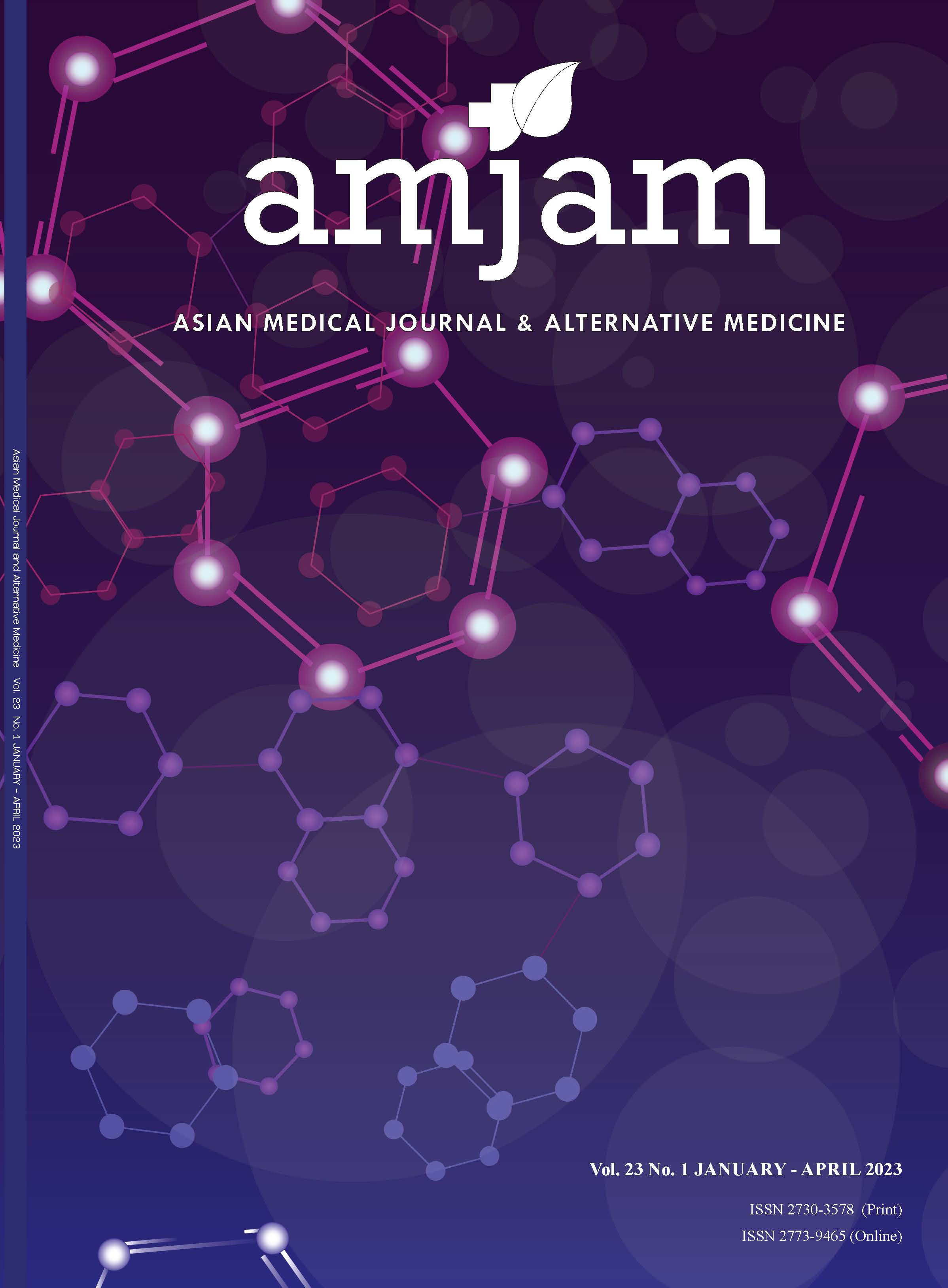 Downloads
How to Cite
[1]
Pusongchai, T. , Kulalert, P., Dulpinijthamma, J., Sinlapamongkolkul, P. , Surapolchai, P. , Nanthapisal, S. , Poachanukoon, O. and Satayasai, W. 2023. A 6-Step Desensitization Protocol in a Pediatric Patient with L-asparaginase Anaphylaxis: A Case Report. Asian Medical Journal and Alternative Medicine. 23, 1 (Apr. 2023), 75–80.
License
Copyright (c) 2023 Asian Medical Journal and Alternative Medicine
This work is licensed under a Creative Commons Attribution-NonCommercial-NoDerivatives 4.0 International License.