Attitudes and Knowledge of Thai Health Professionals and the General Public Toward Using 70% Isopropyl Alcohol Before Intradermal, Subcutaneous, and Intramuscular Injections/Vaccinations
Keywords:
Attitude, Knowledge, Injection, Skin preparation, 70% isopropyl alcohol
Abstract
Introduction: Using 70% isopropyl alcohol for skin preparation before intradermal (ID), subcutaneous (SC), and intramuscular (IM) vaccinations/injections is a routine practice for all Thai medical personnel, yet there is no direct evidence it reduces infections. Many studies, including the WHO best practices for injections and related procedures toolkit 2010, state cleaning dirty skin with soap and water is sufficient. This study assessed the percentage of medical personnel familiar with this toolkit and their skin preparation attitudes and knowledge. WHO injection practices information was discussed. Patients and their relatives' opinions were collected. Two cross-sectional questionnaires in 400 medical and 400 non-medical persons at Thammasat University Hospital January - February 2020 and April - June 2021.
Methods: One questionnaire was given to health professionals on their attitude, knowledge, and knowledge sources toward skin preparation; another was distributed to patients and relatives on attitudes about cleaning injection sites with soap and water.
Results: Only 19.0%, 19.0%, and 14.8% of medical personnel and 17.3%, 17.3%, and 17.8% of the general public agreed solely cleaning sites with soap and water was sufficient in ID, SC, and IM vaccinations/injections, respectively. Only 20.0% - 23.8% of medical personnel knew about the WHO toolkit; nonetheless, 52.0% - 55.8% said they would follow it.
Conclusions: Using alcohol as routine skin preparation lacks scientific evidence, potentially leading to skin irritation/allergies, wasting both time and money. Medical professionals require an introduction to WHO best practices for injections, and patients and their relatives require more education on using soap and water, as appropriate.
Downloads
Download data is not yet available.
References
Dougherty L, Lister SE. The Royal Marsden Hospital manual of clinical nursing procedures. 8th ed. Chichester: Wiley-Blackwell; 2011.
Dann TC. Routine skin preparation before injection: an unnecessary procedure. Lancet. 1969;2:96-98.
Lewis MJ. Skin preparation before injection. Nurs Times. 1975;71:786-787.
Del Mar CB, Glasziou PP, Spinks AB, Sanders SL. Is isopropyl alcohol swabbing before injection really necessary? Med J Aust. 2001;174:306.
Hutin Y, Hauri A, Chiarello L, et al. Best infection control practices for intradermal, subcutaneous, and intramuscular needle injections. Bull World Health Organ. 2003;81:491-500.
Pham T, Perry JD. Botulinum toxin type A injection without isopropyl alcohol antisepsis. Ophthalmic Plast Reconstr Surg. 2009;25: 178-179.
WHO Best Practices for Injections and Related Procedures Toolkit 2010. World Health Organization. http://www.ncbi.nlm.nih.gov/books/NBK138491/. Published 2010. Accessed March 20, 2020.
Jensen O. Contact allergy to propylene oxide and isopropyl alcohol in a skin disinfectant swab. Contact Dermatitis. 1981;7:148-150.
Upadhyayula S, Kambalapalli M, Harrison CJ. Safety of anti-infective agents for skin preparation in premature infants. Archives of Disease in Childhood. 2007;92:646-647.
Muhammad Q, Syed W, Syed S. The Skin Preparation Knowledge, Attitudes and Practices among the Healthcare Professionals in
Compliance with the World Health Organization (WHO) Guidelines. J Clin Diagn Res. 2012;6:1041-1046.
Workman B. Safe injection techniques. Nursing Standard. http://rcnpublishing.com/doi/abs/10.7748/ns1999.06.13.39.47.c2623. Published 1999. Accessed April 7, 2020.
O'Neill J, Grinager H, Smith SD, Sibley S, Harrison AR, Lee MS. Isopropyl alcohol skin antisepsis does not reduce incidence of infection following insulin injection. Am J Infect Control. 2013;41:755-756.
Elek SD. Experimental staphylococcal infections in the skin of man. Ann NY Acad Sci. 1956;65:85-90. 0
American Diabetes Association. Insulin administration. Diabetes Care. 2003;26(S1):121-124.
Frid A, Hirsch L, Gaspar R, et al. New injection recommendations for patients with diabetes. Diabetes Metab. 2010;36(S2):3-18.
Cabana MD, Rand CS, Powe NR, et al. Why don't physicians follow clinical practice guidelines? A framework for improvement. JAMA. 1999;282:1458-1465.
Dunbar-Jacob J. Models for changing patient behavior. Am J Nurs. 2007;107:20-25.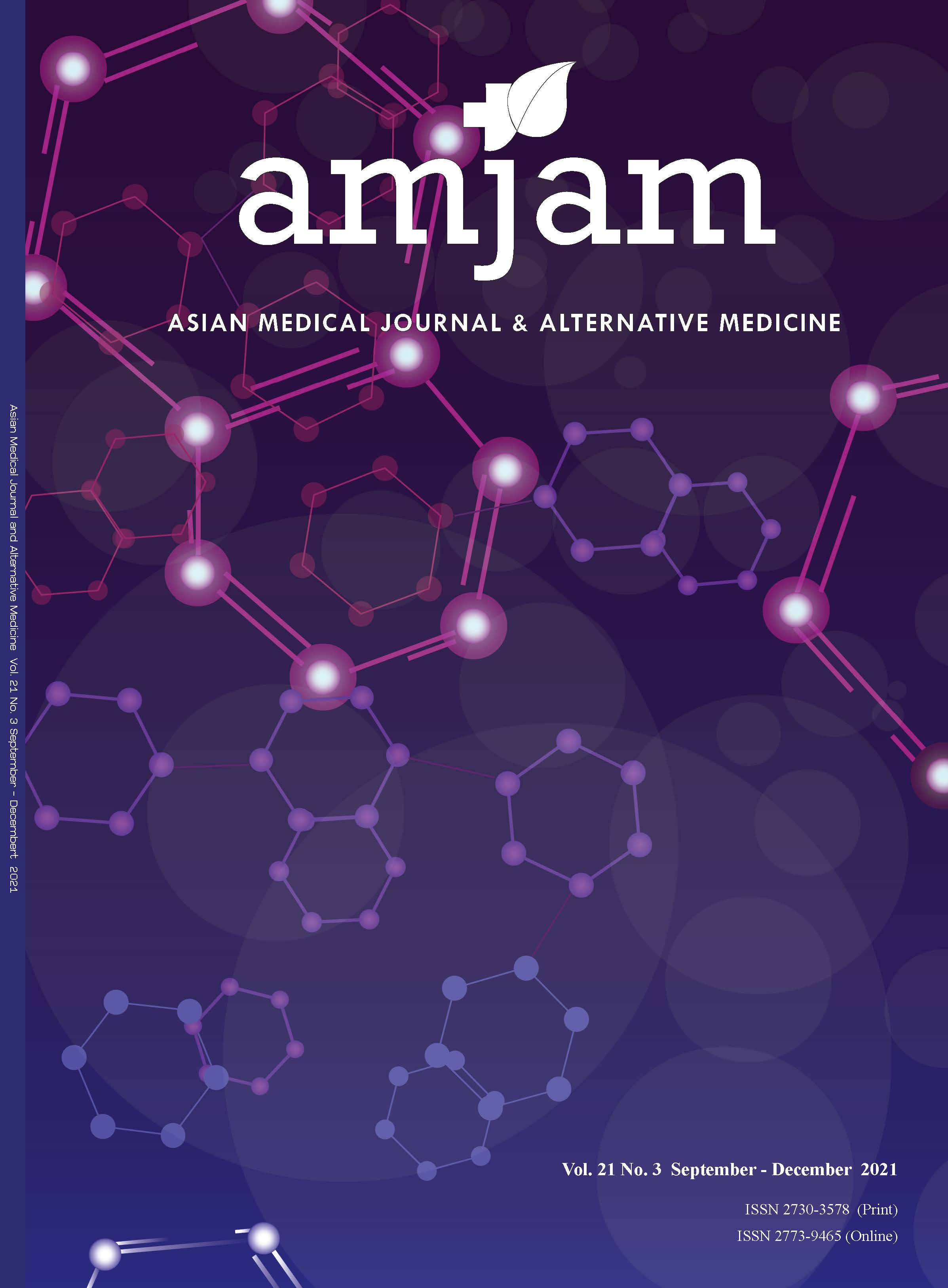 Downloads
How to Cite
[1]
Chueluecha, C., Amphaiphan, I., Thirati, N., Nitiyarom, N. and Kronpet, P. 2021. Attitudes and Knowledge of Thai Health Professionals and the General Public Toward Using 70% Isopropyl Alcohol Before Intradermal, Subcutaneous, and Intramuscular Injections/Vaccinations. Asian Medical Journal and Alternative Medicine. 21, 3 (Dec. 2021), 184–189.
Section
Original Articles
License
This work is licensed under a Creative Commons Attribution-NonCommercial-NoDerivatives 4.0 International License.