The Effect of Degradation on Biological Activity and Chemical Content of Lom-Am-Ma-Preuk Extract
Keywords:
Lom-Am-Ma-Preuk, Forced degradations, Nitric oxide, HPLC
Abstract
Introduction: Lom-Am-Ma-Preuk (LAP) remedy is a herbal remedy in Traditional Thai Medicine scripture and is on the National List of Essential Medicine in Thailand. Many herbal ingredients of LAP have significant inhibitory activity against the production of inflammatory mediators. The aim of this current study was to investigate forced degradation of extracts by heat, moisture, oxidation, and acid hydrolysis. The effects of these degradations were determined by anti-inflammatory activity and chemical content analysis of the LAP extract. The identified chemical markers including eugenol, myristicin, and piperine were compared amongst the remedies.
Methods: Antiinflammatory activity was determined by an inhibitory effect on nitric oxide production as assessed through the Griess reaction and content markers were analyzed by high performance liquid chromatography.
Results: The forced degradation conditions which the extracts were treated with included oxidation, heat, moisture, and acid which did not affect the production inhibition of nitric oxide when compared with control (IC50 as 29.75, 35.69, 40.50, 48.04, and 40.37 µg/mL, respectively). Eugenol contents in LAP treated with acidic and alkaline treatments were significantly less than control (0.85 ± 0.11, 0.37 ± 0.11, and 2.28 ± 0.11 mg/g extract, respectively). Piperine content in the LAP extract which was treated with oxidation and acid was significantly less than control (24.71 ± 1.02, 25.69 ± 0.96, and 38.48 ± 0.74 mg/g extract, respectively) and myristicin content was not significantly different from controlled content after treatments.
Conclusions: Except under alkaline conditions the LAP ethanolic extract is stable under forced degradation conditions in terms of biological properties. Thus, the preparation of a LAP extract should avoid alkaline conditions in the production process. LAP extract is considered to be a potential candidate for further development into a topical product for analgesic relief.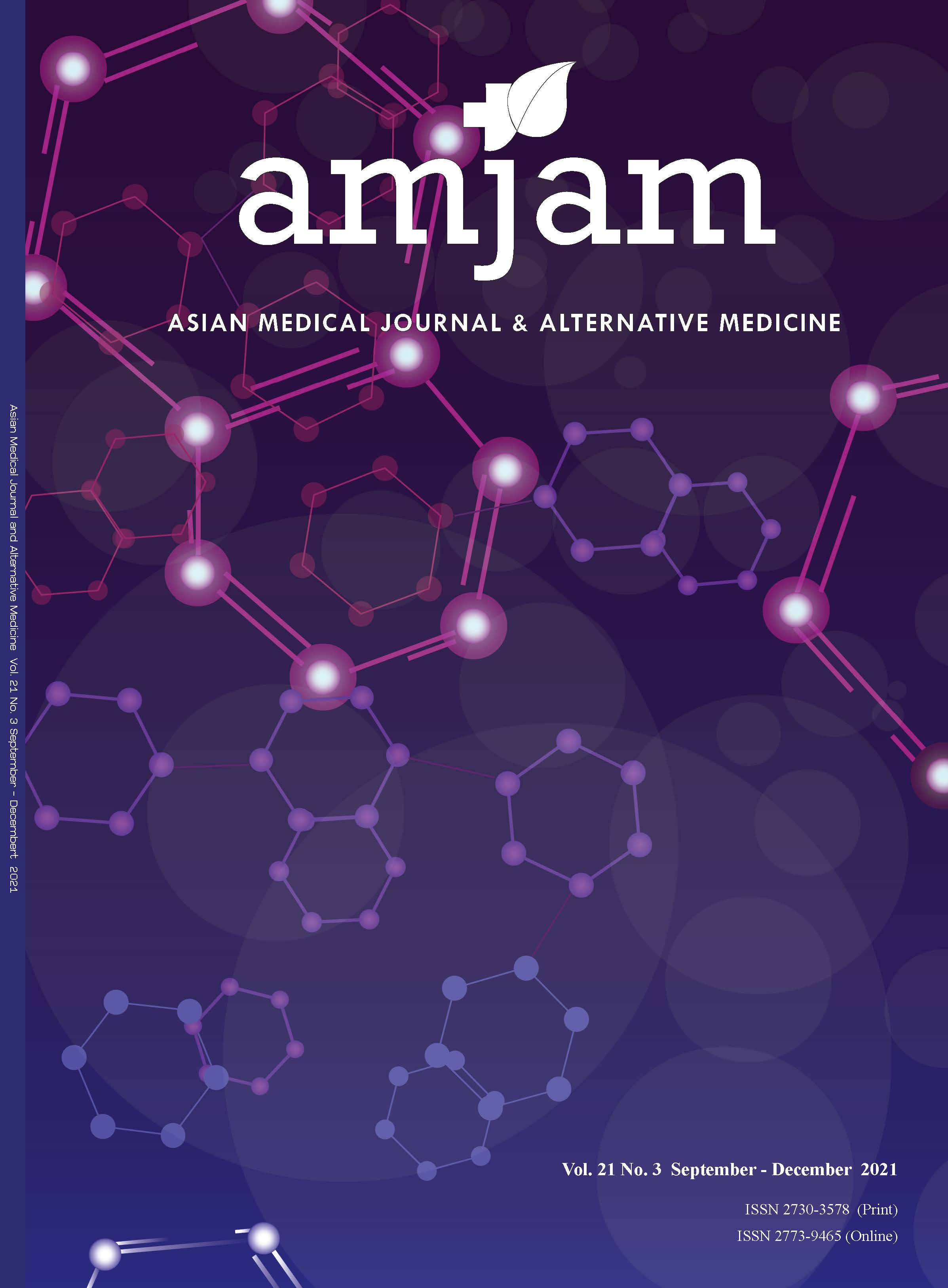 Downloads
How to Cite
[1]
Piwngam, K., Kanokkangsadal, P., Prommee, N., Sukkasem, K., Pumlek, K., Makchuchit, S., Davies, N.M. and Itharat, A. 2021. The Effect of Degradation on Biological Activity and Chemical Content of Lom-Am-Ma-Preuk Extract. Asian Medical Journal and Alternative Medicine. 21, 3 (Dec. 2021), 239–247.
Section
Original Articles