Kidney Health for All: Bridging the Gap in Kidney Health Education and Literacy
Kidney health for All
Keywords:
Educational gap, Empowerment, Health literacy, Health policy, Information technology, Kidney health, Partnership, Prevention, Social media
Abstract
The high burden of kidney disease, global disparities in kidney care, and poor outcomes of kidney failure bring a concomitant growing burden to persons affected, their families, and carers, and the community at large. Health literacy isthe degree to which persons and organizations have or equitably enable individuals to have the ability to find, understand, and use information and services to make informed health-related decisions and actions for themselves and others. Rather than viewing health literacy as a patient deficit,
improving health literacy largely rests with health care providers communicating and educating effectively in codesigned partnership with those with kidney disease. For kidney policy makers, health literacy provides the imperative to shift organizations to a culture that places the person at the center of health care. The growing capability of and access to technology provides new opportunities to enhance education and awareness of kidney disease for all stakeholders. Advances in telecommunication, including social media platforms, can be leveraged to enhance persons' and providers' education; The World Kidney Day declares 2022 as the year of "Kidney Health for All" to promote global teamwork in advancing strategies in bridging the gap in kidney health education and literacy. Kidney organizations should work toward shifting the patient-deficit health literacy narrative to that of being the responsibility of health care providers and health policy makers. By engaging in and supporting kidney health–centered policy making, community health planning, and health literacy approaches for all, the kidney communities strive to prevent kidney diseases and enable living well with kidney disease.
Downloads
Download data is not yet available.
References
Centers for Disease Control and Prevention. Healthy People 2030: What Is Health Literacy? Centers for Disease Control and Prevention. https://www.cdc.gov/health-literacy/learn/index.html. Accessed January 16, 2022.
Nutbeam D. The evolving concept of health literacy. Soc Sci Med. Dec 2008;67(12):2072-2078.
Lloyd A, Bonner A, Dawson-Rose C. The health information practices of people living with chronic health conditions: Implications for health literacy. J Librarianship Information Science. 2014;46:207-216.
Sorensen K, Van den Broucke S, Fullam J, et al. Health literacy and public health: a systematic review and integration of definitions and models. BMC Public Health. 2012; 12:80.
Nutbeam D, Lloyd JE. Understanding and Responding to Health Literacy as a Social Determinant of Health. Annu Rev Public Health. 2021;42:159-173.
Mathias-Shah J, Ramsbotham J, Seib C, Muir R, Bonner A. A scoping review of the role of health literacy in chronic kidney disease self-management. J Ren Care. 2021;47: 221-233.
Dinh HTT, Nguyen NT, BonnerA. Healthcare systems and professionals are key to improving health literacy in chronic kidney disease. J Ren Care. 2021.
Dobson S, Good S, Osborne R. Health literacy toolkit for low and middle-income countries: A series of information sheets to empower communities and strengthen health systems. New Delhi: World Health Organization. 2015.
Taylor DM, Fraser S, Dudley C, et al. Health literacy and patient outcomes in chronic kidney disease: a systematic review. Nephrol Dial Transplant. 2018;33(9):1545-1558.
Taylor DM, Bradley JA, Bradley C, et al. Limited health literacy is associated with reduced access to kidney transplantation. Kidney Int. 05 2019;95(5):1244-1252.
Brega AG, Barnard J, Mabachi NM, et al. AHRQ Health Literacy Universal Precautions Toolkit, Second Edition. (Prepared by Colorado Health Outcomes Program, University of Colorado Anschutz Medical Campus under Contract No. HHSA290200710008, TO#10.) AHRQ Publication No. 15-0023-EF. Rockville, MD: Agency for Healthcare Research and Quality; January 2015.
Australian Commission on Safety and Quality in Health Care. Health literacy: Taking action to improve safety and quality. Sydney: ACSQHC, 2014. https://www.safetyandquality.gov.au/publications-and-resources/resourcelibrary/health-literacy-taking-action-improvesafety-and-quality.Accessed January 17, 2022.
Visscher BB, Steunenberg B, Heijmans M, et al. Evidence on the effectiveness of health literacy interventions in the EU: a systematic review. BMC Public Health. 2018;18(1):1414.
Boonstra MD, Reijneveld SA, Foitzik EM, Westerhuis R, Navis G, de Winter AF. How to tackle health literacy problems in chronic kidney disease patients? A systematic review to identify promising intervention targets and strategies. Nephrol Dial Transplant. 2020.
Nguyen NT, Douglas C, Bonner A. Effectiveness of self-management programme in people with chronic kidney disease: A pragmatic randomized controlled trial. J Adv Nurs. 2019;75(3):652-664.
Synnot A, Bragge P, Lowe D, et al. Research priorities in health communication and participation: international survey of consumers and other stakeholders. BMJ Open. 2018;8(5):019481.
Kalantar-Zadeh K, Kam-Tao Li P, Tantisattamo E, et al. Living well with kidney disease by patient and care-partner empowerment: kidney health for everyone everywhere. Kidney Int. 2021;99(2):278-284.
Jager KJ, Kovesdy C, Langham R, Rosenberg M, Jha V, Zoccali C. A single number for advocacy and communication-worldwide more than 850 million individuals have kidney diseases. Kidney Int. 2019;96(5):1048-1050.
Li PK, Garcia-Garcia G, Lui SF, et al. Kidney health for everyone everywhere-from prevention to detection and equitable access to care. Kidney Int. 2020;97(2):226-232.
Gilford S. Patients helping patients: the Renal Support Network. Nephrol Nurs J. 2007;34(1):76.
Muhammad S, Allan M, Ali F, Bonacina M, Adams M. The renal patient support group: supporting patients with chronic kidney disease through social media. J Ren Care. 2014;40(3):216-218.
Li WY, Chiu FC, Zeng JK, et al. Mobile Health App With Social Media to Support SelfManagement for Patients With Chronic Kidney Disease: Prospective Randomized Controlled Study. J Med Internet Res. 2020;22(12):19452.
Pase C, Mathias AD, Garcia CD, Garcia Rodrigues C. Using Social Media for the Promotion of Education and Consultation in Adolescents Who Have Undergone Kidney Transplant: Protocol for a Randomized Control
Trial. JMIR Res Protoc. 2018;7(1):3.
Kalantar-Zadeh K, Jafar TH, Nitsch D, Neuen BL, Perkovic V. Chronic kidney disease. Lancet. 2021.
Chen L, Sivaparthipan CB, Rajendiran S. Unprofessional problems and potential healthcare risks in individuals' social media use.
Work. 2021;68(3):945-953.
Henderson ML, Herbst L, Love AD. Social Media and Kidney Transplant Donation in the United States: Clinical and Ethical Considerations When Seeking a Living Donor. Am J Kidney Dis. 2020;76(4):583-585.
Henderson ML. Social Media in the Identification of Living Kidney Donors: Platforms, Tools, and Strategies. Curr Transplant Rep.
;5(1):19-26.
Newton K, van Deth JW, eds. Foundations of Comparative Politics Democracies of the Modern World. 2nd ed. Cambridge, UK: Cambridge University Press; 2010. http://www.nicat-mammadli.narod.ru/b1.html/b36.pdf. Accessed December 13, 2021.
Anderson JE. Public Policymaking: An Introduction. 2nd ed. Boston, MA: Houghton Mifflin; 1994.
Young E, Quinn L, eds. Writing Effective Public Policy Papers: A Guide to Policy Advisers in Central and Eastern Europe. Budapest, Hungary: Open Society Institute; 2002. https://www.icpolicyadvocacy.org/sites/icpa/files/downloads/writing_effective_public_policy_papers_young_quinn.pdf.Accessed December 13, 2021.
Young E, Quinn L, eds. Making Research Evidence Matter:AGuide to PolicyAdvocacy in Transition Countries. Budapest, Hungary: Open Society Foundations; 2012. https://advocacyguide.icpolicyadvocacy.org/sites/icpa-book.local/files/Policy_Advocacy_Guidebook_2012.pdf. Accessed December 13, 2021.
Start D, Hovland I. Tools for Policy Impact: A Handbook for Researchers, Research and Policy in Development Programme. London, UK: Overseas Development Institute; 2004. https://www.ndi.org/sites/default/files/Toolsfor-Policy-Impact-ENG.pdf.Accessed December 13, 2021.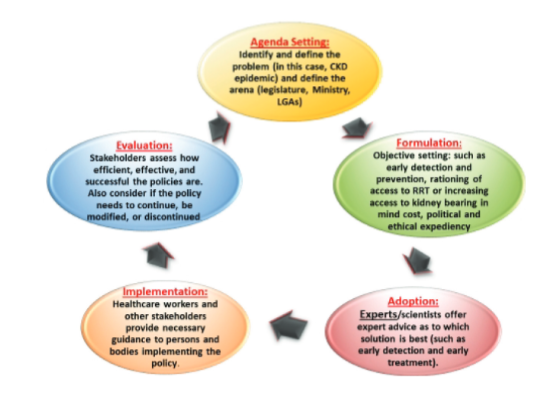 Downloads
How to Cite
[1]
Langham, R., Kalantar-Zadeh, K., Bonner, A., Balducci, A., Hsiao, L.-L., Kumaraswami, L., Laffin, P., Liakopoulos, V., Saadi, G., Tantisattamo, E., Ulasi, I. and Lui, S.-F. 2022. Kidney Health for All: Bridging the Gap in Kidney Health Education and Literacy: Kidney health for All . Asian Medical Journal and Alternative Medicine. 22, - (Aug. 2022), S74-S88. DOI:https://doi.org/10.14456/2022s10501.
License
Copyright (c) 2022 Asian Medical Journal and Alternative Medicine
This work is licensed under a Creative Commons Attribution-NonCommercial-NoDerivatives 4.0 International License.