The Prevalence of Dry Eye After Cataract Surgery Among Acute Angle Closure Crisis Patients at Thammasat Hospital
Keywords:
Dry eyes, Cataract surgery, Acute angle closure crisis, OSDI, Glaucoma
Abstract
Introduction: Dry eye is a common condition. Patients with dry eye may have a reduced quality of life due to their discomfort, and significant visual disturbances. Dry eye can occur as a result of various factors such as increasing age, female, medication use, and surgical procedures. The definitive treatment of acute angle closure crisis is surgical intervention to prevent its
recurrence.
Objectives: The objective of the study was to identify the prevalence of dry eye after cataract surgery among acute angle closure crisis (AACC) patients by using Ocular Surface Disease Index (OSDI), which is a standardized instrument to diagnosis dry eye disease (DED).
Methods: Prospective descriptive study. Twelve cases of AACC were diagnosed and underwent phacoemulsification at Thammasat Hospital. All participants were enrolled in this study. The dry eye related data was collected preoperatively and at 1 week, 1 month, and 3 months postoperatively. OSDI evaluation form was completed by all participants to record the type of dry eye.
Results: Fifteen eyes of 12 patients, including 4 (33.33%) men and 8 (66.67%) women with the mean age of 67.4 (±6.1) years were studied. DED were found 73.33% eyes (P < .001) of patients at 1 week follow-up. 46.67% and 6.67% of the eyes were dry eye at 1 month and 3 months after surgery, respectively.
Conclusions: Prevalence of DED is significant after cataract surgery among AACC patients. The clinicians should be concerned about DED after cataract surgery.
Downloads
Download data is not yet available.
References
The definition and classification of dry eye disease: report of the definition and classification subcommittee of the international dry eye workshop (2007). Ocul Surf. 2007;5:75-92.
Cho YK, Kim MS. Dry eye after cataract surgery and associated intraoperative risk factors. Korean J Ophthalmol. 2009;23:65-73.
Nistor MC, Nistor C. Clinical correlations between dry eye and cataract surgery. Oftalmologia. 2007;51:79-82.
Jones L, Downie LE, Korb D, et al. TFOSDEWS II management and therapy report. Ocul Surf. 2017;15:575-628.
Sutu C, Fukuoka H, Afshari NA. Mechanisms and management of dry eye in cataract surgery patients. Curr Opin Ophthalmol. 2016;27:24-30.
Lai JS, Tham CC, Chan JC. The clinical outcomes of cataract extraction by phacoemulsification in eyes with primary angle-closure glaucoma (PACG) and coexisting cataract: a prospective case series. J Glaucoma. 2006;15(1):47-52.
Azuara-Blanco A, Burr J, Ramsay C, et al. Effectiveness of early lens extraction for the treatment of primary angle-closure glaucoma (EAGLE): a randomized controlled trial.
Lancet. 2016;388:1389-1397.
Park Y, Hwang HB, Kim HS. Observation of influence of cataract surgery on the ocular surface. PLos One. 2016;11:0152460.
Ozcura F, Aydin S, Helvaci MR. Ocular surface disease index for the diagnosis of dry eye syndrome. Ocul Immunol Inflamm. 2007;15(5):389-393.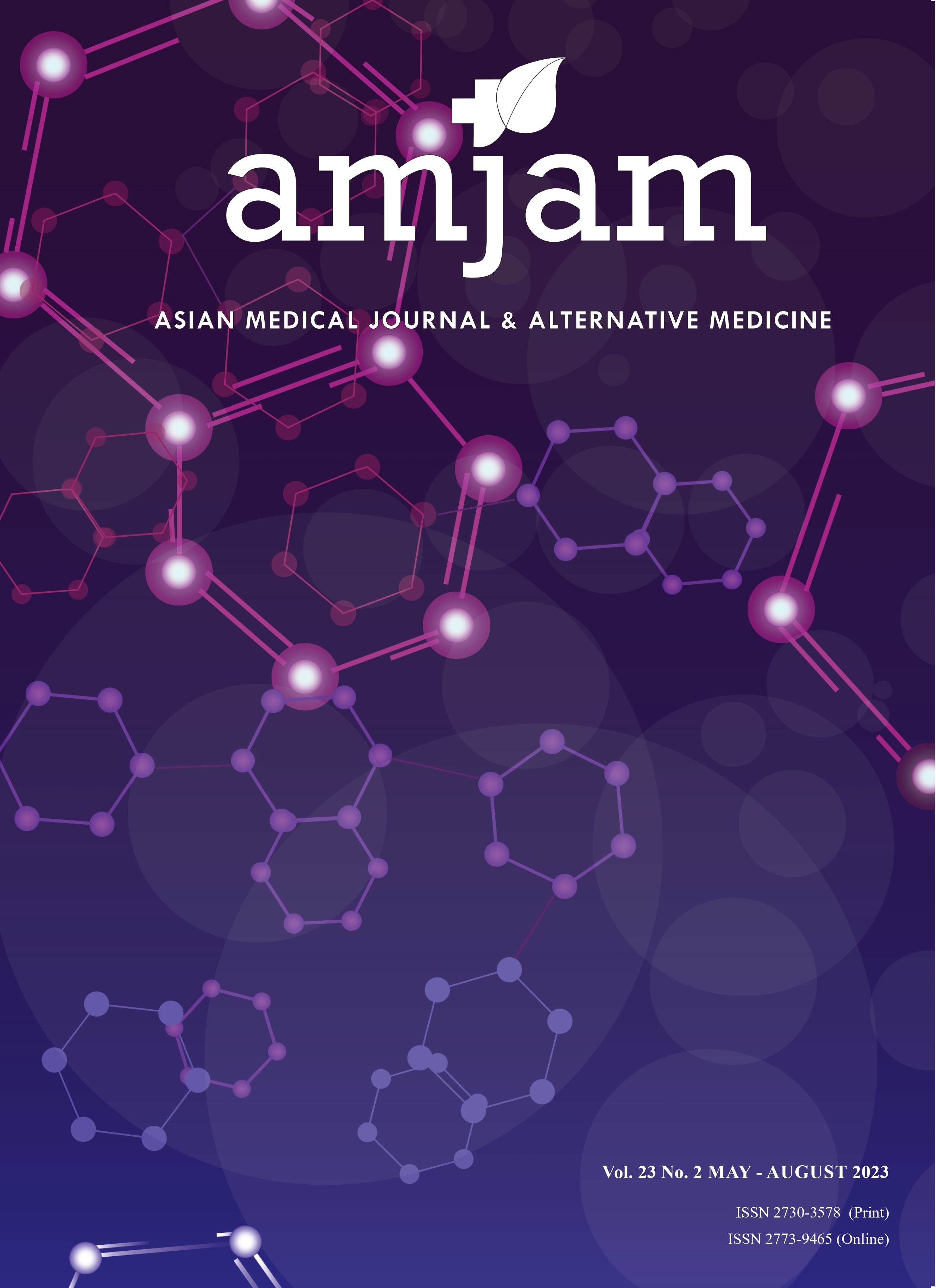 Downloads
How to Cite
[1]
Rojdamrongratana, D. and penpian, C. 2023. The Prevalence of Dry Eye After Cataract Surgery Among Acute Angle Closure Crisis Patients at Thammasat Hospital. Asian Medical Journal and Alternative Medicine. 23, 2 (Aug. 2023), 139–142.
Section
Original Articles
License
Copyright (c) 2023 Asian Medical Journal and Alternative Medicine
This work is licensed under a Creative Commons Attribution-NonCommercial-NoDerivatives 4.0 International License.